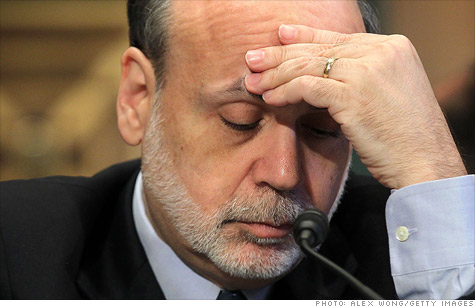 NEW YORK (CNNMoney) -- Federal Reserve Chairman Ben Bernanke heads to Capitol Hill this week in the center of many storms swirling around Washington and Wall Street.
The debate over whether to raise the U.S. debt ceiling rages in Washington.
Worries over the risk of European sovereign debt default are pummeling stocks on Wall Street.
"He'll definitely have a full plate," Dean Baker, co-chairman of the Center for Economic and Policy Research, said of the Fed chairman. "Obviously these are all in his purview."
The question and answer period that follows Bernanke's remarks is likely to focus on those hot-button topics.
"He's going to want to talk about economic outlook and they'll want to bring it back to debt ceiling debate, with both sides trying to score points on that about cutting deficits or raising taxes," said Mark Vitner, senior economist at Wells Fargo Securities.
Of course, when Bernanke talks about the economic outlook, his job won't be any easier.
Americans are rightly worried about a sputtering U.S. economy, with hiring slowing to a crawl in June. And while inflation pressures have cooled with falling gas prices in recent weeks, American consumers are still struggling with the biggest jump in prices in nearly three years. Many critics blame the central bank for those price increases.
And neither the Fed nor anyone else seems to have a solution to the problems in the housing market, which triggered much of the nation's economic woes in the first place.
New details on exit strategy
So it's doubtful Bernanke will make anyone too happy during his testimony before the House Financial Services committee on Wednesday and the Senate Banking Committee on Thursday.
One thing that lawmakers may ask him about is the Fed's new road map for its exit strategy from the massive efforts the Fed made the last four years to pump up the U.S. economy.
That road map was spelled out in its greatest detail yet Tuesday when the Fed released the minutes from last month's meeting.
The first step will be for the Fed to stop purchasing additional Treasuries. It will then drop language in its policy statement about keeping its key interest rate, the fed funds rate, at an exceptionally low level for an "extended period."
That rate, used as a benchmark for a wide range of consumer and business loans, has been near 0% since December 2008.
The next step will be for the Fed to actually start raising the fed funds rate. Only then will the Fed look to sell the trillions of dollars in assets it purchased in order to pump money into the economy.
The Fed said Tuesday that the roadmap for its exit strategy was being discussed by policymakers only as "prudent planning and did not imply that a move toward such normalization would necessarily begin sometime soon."
As to the issues that Congress and the markets are wrestling with, Bernanke has already said that Congress should stop holding the debt ceiling hostage and agree to raise the limit on how much America can borrow, even if that happens without agreement on long-term deficit reduction that he says is needed. That is unlikely to please either side in the contentious negotiations now taking place.
At his press conference after the last Fed meeting he said U.S. banks have limited exposure to European sovereign debt, but that a default there would badly shake European banks, which would pose a "quite significant" risk to the U.S. economy.
At that meeting the Fed slashed its forecast for growth and hiring and raised its inflation estimates through next year. Bernanke warned that unemployment will come down "very painfully and slowly" and that it will be years before it gets near 5% once again. And since that meeting, the Labor Department reported a disappointing June jobs report that showed virtually no hiring.
Vitner doesn't think Bernanke will get much of the blame for high unemployment during his testimony.
"It's hard to throw much blame at Bernanke. How much more can the Fed do?" said Vitner.
But Baker thinks the Fed could be doing more to spur hiring.
"When the economy clearly needs help, and it's not getting it from Congress, so he's the only game in town," he said. "It's limited what he can do, but certainly he can do more."
Tuesday's minutes showed that there is still great disagreement among Fed policymakers as to what the central bank should do next.
Some members of the committee that sets monetary policy believe that the Fed should take additional action to spur growth if it did not accelerate enough to bring down unemployment.
But other members said the Fed might need to begin the exit strategy sooner than currently anticipated.