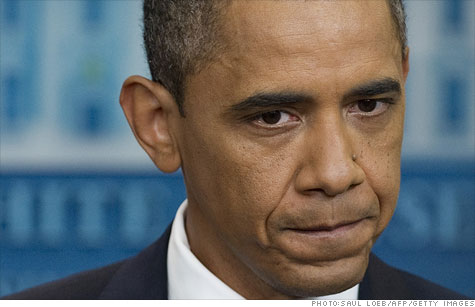 NEW YORK (CNNMoney) -- President Obama issued a broadside Tuesday in the debt ceiling debate, saying in a high-profile interview that he cannot ensure government benefits -- including Social Security -- will be paid if Congress fails to act.
"I cannot guarantee that those checks go out on August 3rd if we haven't resolved this issue. Because there may simply not be the money in the coffers to do it," Obama told CBS News.
This is not the first time the administration has warned that Social Security benefits are on the line. But it is the first time Obama has addressed the issue so pointedly.
Treasury Secretary Tim Geithner warned Congress as early as Jan. 6 that benefit checks might not be paid in full and on time.
In another letter in May, Geithner reiterated the point: "A broad range of government payments would have to be stopped, limited or delayed, including military salaries, Social Security and Medicare payments, interest on debt, unemployment benefits and tax refunds."
Geithner has said that by Aug. 2 he will no longer have enough money on hand every day to pay all the government's bills.
The government reached the legal borrowing limit on May 16 and has been taking "extraordinary measures" since to keep the country out of default.
On Aug. 3, the federal government will be forced to start prioritizing payments. And that just happens to be a day when a big set of Social Security checks are scheduled to be mailed out. Some 60 million Americans receive Social Security benefits each month.
The Treasury also has to ensure it has enough cash on hand to make a $29 billion interest payment to investors on Aug. 15.
Consequently, the government would have to defer 44% of federal spending, a significant portion of the 80 million payments it makes every month, according to a study conducted by the Bipartisan Policy Center, a think tank in Washington founded by four former Democratic and Republican Senate majority leaders.
Because the government will still receive some tax revenue, some bills can be paid. But not everything. And the longer Congress delays, the more Treasury will be stretched.
"Handling all payments for important and popular programs (e.g., Social Security, Medicare, Medicaid, defense, active duty pay) will quickly become impossible," the report's authors noted.
It's impossible to say just how the government would prioritize payments. It's fair to assume, however, that picking who gets paid and who gets put off will be a mess technically and socially because it's never been done before.