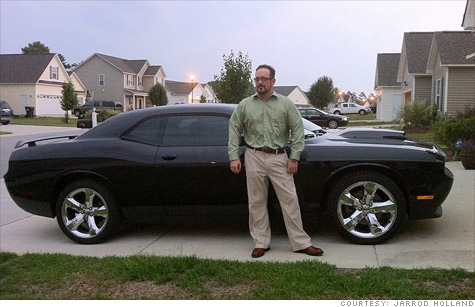 Jarrod Holland loves his 2011 Dodge Challenger. But, in a year or so, he'll want something else.
NEW YORK (CNNMoney) -- Jarrod Holland has a serious car-buying habit. In 20 years, Holland has had 22 different cars. He has never had any car for more than, at most, three years.
"I get tired of cars easily," he said.
And although having the latest, coolest ride in town all the time seems like fun, there is a downside. Holland's been making car payments for years and years, sometimes on several cars at once.
"I didn't start out to do this," Holland said. "At first it was just because I was impulsive."
Financial experts warn against following in Holland's path. The cheapest car is one you've paid off, they say, and that's something Holland has rarely had.
Surprisingly many car buyers are in a similar situation.
"A lot of Americans are doing the same thing," Henry said, "but they just keep their cars longer."
Holding on to a car longer would help Holland keep his costs down. Remember, as soon as you drive off the lot your new car depreciates in value - a lot.
That depreciation -- which could be thousands of dollars -- is what Holland's habit is costing him each time he sells his car for another. If he simply kept a car longer he wouldn't have to get hit so often.
Holland, who runs his own North Carolina-based public relations firm catering to the auto industry, describes himself as a lifelong car nut. He wouldn't disclose his annual income, but he said his two-person household is solidly middle class. His wife, he said, doesn't mind the continuous parade of new cars coming in and money going out.
Years ago it became clear to Holland that he would never, ever, keep any car for long. So he strategized methods for keeping up his expensive habit while at least minimizing the financial damage.
The secret, he says, is taking short-term leases and negotiating hard up front to lessen the pain of paying them off early. Also, he never, ever, makes any sort of down payment.
He counts it as a win if his monthly lease payments don't go up more than a few dollars from one car to the next, if that much.
For instance, in June Holland traded in a Nissan (NSANY) 370Z he'd leased in April, 2010, for a 2011 Dodge Challenger R/T. His payments went down, he said, because over the intervening 14 months, his credit score had improved.

It probably helped, too, that used car values are unusually high right now.
The strategy: The key to this high-turnover game is finding cars that can be expected to hold their value well, Holland said.
When you lease a car, you're paying for the amount of value it loses during the term of the lease. On a three year lease, you're paying for the difference between the car's price when you got it and what it's expected to be worth in three years, plus taxes and fees. Cars that hold their value will have lower lease payments.
Holland also shops for cars that have rebates or special lease deals. And he negotiates hard, he says, to get down the cost of those payments and the eventual cost of paying off the lease.
He researches the actual dealer costs on the car he's looking for and the lease deals in his area, he says. And he stands his ground with the dealer, refusing to accept a higher lease rate than he figures he should get.
"I'm a grinder," he said. "I grind the hell out of them."
He takes out three year leases but, whenever he decides he's done with the car, he contacts the finance company to find out how much he'd have to pay to buy the car outright and end the lease.
Then he sells or trades in the car for as much as he can and pays off the lease.
While Holland may be minimizing the impact of his habit, there's no getting around the fact that it's very costly, said Jeff Bartlett, an auto editor with Consumer Reports magazine. Most car owners today keep their cars for about eight years, Bartlett said.
By rough estimate, Bartlett said, Holland has probably spent hundreds of thousands of dollars to feed his car habit, especially considering he could have invested or saved some of the money he's been spending on car payments.
For his part, Holland insists there's no way it's cost him that much. Most people pay car loans with higher interest rates, he said, plus his cars are always under warranty so he saves a lot on repair costs.
But there are considations beyond money.
"The worst part is that he's spending all this time in car dealerships," said Consumer Reports' Bartlett. "What a nightmare that is."