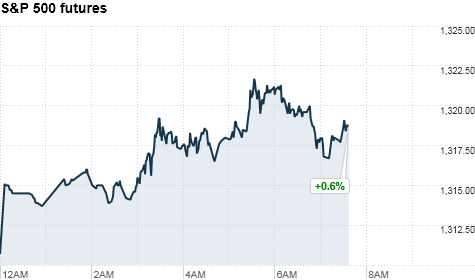 Click chart to track futures.
NEW YORK (CNNMoney) -- U.S. stocks were poised for gains before the opening bell Wednesday, after robust Chinese growth numbers calmed investors.
Dow Jones industrial average (INDU), S&P 500 (SPX) and Nasdaq (COMP) futures were higher ahead of the opening bell. Futures measure current index values against perceived future performance.
China's economy grew at an annual pace of 9.5% between April and June, the National Bureau of Statistics said Wednesday. That marks a slight slowdown from the first quarter, but the reported growth was higher than economists expected.
David Jones, chief market strategist at IG Markets, said that strong Chinese growth numbers helped alleviate fears of a global slowdown.
"It's given a bit of a lift to markets," Jones said. "It definitely helps calm slowdown concerns in light of some really poor numbers in recent weeks."
However, Jones said that trade is likely to be choppy in U.S. markets Wednesday.
"There is a risk that the strength ends up being short lived because that cloud -- Ireland and Greece -- is very much still there," he said.
U.S. stocks ended near session lows Tuesday, after Moody's cut Ireland's credit rating to junk. Investors viewed the downgrade as yet another reminder of Europe's ongoing debt troubles.
Economy: Fed chairman Ben Bernanke will begin his semi-annual testimony to Congress about monetary policy and the economy on Wednesday. Bernanke will appear before the Committee on Financial Services of the House of Representatives.
The Energy Department's weekly oil inventories report comes out in the morning.

Companies: Late Tuesday, Electronic Arts (ERTS) announced it is buying mobile game maker PopCap Games for $750 million in cash and stock.
After the closing bell Wednesday, fast food company Yum! Brands (YUM, Fortune 500) and hotel chain Marriott (MAR, Fortune 500) will report quarterly earnings.
World markets: European stocks were higher across the board in morning trading. Britain's FTSE 100 rose 0.2%, the DAX in Germany ticked up 0.6%and France's CAC 40 added almost 0.1%.
Asian markets ended the session higher. The Shanghai Composite jumped 1.5%, the Hang Seng in Hong Kong gained 1.2% and Japan's Nikkei rose 0.4%.
Currencies and commodities: The dollar weakened against the euro and British pound, but strengthened against the Japanese yen.
Oil for August delivery dropped 36 cents to $97.07 a barrel.
Gold futures for August delivery rose $10.80 to $1,572.90 an ounce. Earlier Wednesday, the precious metal hit an intraday record of $1,579.70 an ounce. The previous intraday record was $1,577.40, set on May 2.
The precious metal hit a record high close Tuesday, after the minutes from the Fed's June policy meeting indicated the central bank might be open to more monetary stimulus.
Bonds: The price on the benchmark 10-year U.S. Treasury dropped, pushing the yield up to 2.94% from 2.88% late Tuesday.