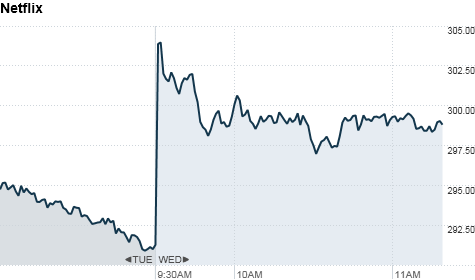 Click the chart for more on Netflix
NEW YORK (CNNMoney) -- Netflix subscribers might not be thrilled with the company's plans to increase prices, but investors appear to be more accepting.
Netflix (NFLX) shares reached another all-time high Wednesday morning, boosted by an upgrade from JPMorgan, which raised its price target on the stock to $340.
Meanwhile, shares of Coinstar (CSTR) are up more than 7% this week. The owner of Red Box is expected to benefit from Netflix's new price policy by attracting new customers. Coinstar is trading within 12% of its 52-week high.
In other news, News Corp dropped its bid to buy British Sky Broadcasting, saying the situation has become "too politicized" for it to continue negotiations. News Corp (NWSA, Fortune 500) shares edged higher on the news.
These are some of the themes that are attracting investors' attention on StockTwits Wednesday:
Trending123: $CSTR The choice of having to go out into the elements to rent a DVD from redbox is not a choice, it's a punishment! $NFLX wins
ZorTrades: some of the older folks will probably stick with the dvd side and drop the streaming, the younger people will stick with streaming.. $NFLX
STtech: RT @TechCrunch: Dear Netflix, Thanks For The Customers! Signed, Redbox http://tcrn.ch/n4ZURz by @mjburnsy $CSTR $NFLX
tbird2252: $CSTR, Piper upgrades http://stk.ly/qohBs0 Short float 36.88%. Trading volume doubled yest. If I was short, I would be nervous...
edwardnh: News Corp Withdraws Its Bid For BSkyB Following News Of The World Hacking Scandal | Sky News http://bit.ly/o2U6mt $NWSA
TheStalwart: Citi's News Corp math: Remove NOTW, remove BSkyB deal, add in $5 BN buyback, and 2012 estimates jump from $1.61 to $1.79. Ergo, buy. $NWSA