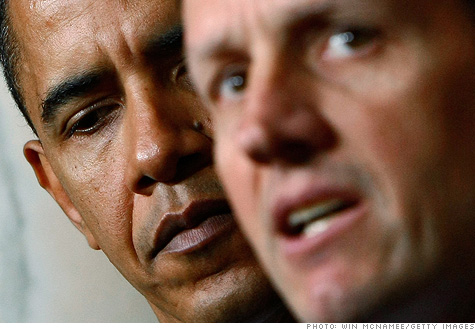 President Obama and Treasury chief Tim Geithner will have to make hard calls about who gets paid if debt ceiling isn't raised.
NEW YORK (CNNMoney) -- President Obama has put the country on notice that he can't guarantee Social Security and other government checks will go out if the debt ceiling isn't raised by Aug. 2.
So it's worth reviewing just what the fallout could be if lawmakers fail to act on time -- either in early August or sooner if markets start to lose confidence that Congress will get its act together.
Nearly half of all government checks won't be paid: The Treasury Department would be unable to pay between 40% and 45% of the 80 million payments it needs to make every month, according to an analysis by the Bipartisan Policy Center.
Why? It's basic math: The United States doesn't bring in enough revenue to pay all its bills -- with monthly deficits averaging $125 billion.
And if the debt ceiling isn't raised, Treasury won't be allowed to borrow new money to make up for the gap between revenue and spending.
Bottom line: Roughly $125 billion of bills on average may have to be put off.
Millions won't be paid: Just whose payments will be delayed is the question. And the answer won't come easy because any choice will hobble parts of the economy and anger large groups of Americans.
Take Aug. 3 as an example. Treasury is due to send out checks to 29 million Social Security recipients. Of course, they may be paid but only if others are not.
The Bipartisan Policy Center report estimates that Treasury Secretary Tim Geithner could choose to exhaust all the tax revenue the government receives in August on just a few items: interest on the debt; Medicare, Medicaid and Social Security; unemployment insurance; and defense contractors.
Who is left out? It's a long list. Everyone from active-duty soldiers, veterans, taxpayers due refunds and federal workers -- to name just a few of the many who depend on government checks.
"The choices would not be pretty," said Jay Powell, coauthor of the Bipartisan Policy Center analysis and a former Treasury official under President George W. Bush.
A taste of things to come: Shortly after hearing that Obama told CBS News he can't guarantee that government benefits, including Social Security, could be paid, the AARP fired off a statement saying it would "irresponsible and immoral" to not pay Social Security beneficiaries.
Markets may go haywire: Investors continue to assume that Congress will do the right thing and raise the ceiling by Aug. 2.
If Congress dashes those expectations, no one can know exactly how the markets will react. But most think they will react, and not well.
Some bond experts expect that contrary to popular belief, Treasury rates won't rise but stocks may tank. In other words, there will be a move out of risk-based assets and a flight to safety in bonds. So interest rates may stay low, but Americans' investments may get whacked.
Or, Treasury yields could become volatile and start to climb as investors smell political instability in Washington. That would push the cost of U.S. debt higher. And it could cause rates on consumer loans -- like mortgages and car loans -- to climb higher as well.
"For equity markets and the dollar, the impact would be unambiguously negative. Confidence in the ability of the U.S. government to fulfill its most basic responsibilities would be damaged. And the spending contraction, if sustained, would send the economy back into recession," said Nigel Gault, the chief U.S. economist of IHS Global Insight.
U.S. reputation would be damaged: Even if bond investors continue to be paid, investors and credit rating agencies won't take it lightly when Treasury has to delay payments to others.
Such delayed payments -- and the public anger that would result -- could cause investors to worry that even if they're getting paid today, tomorrow may be another story. And they could trade on that concern, even if it's unfounded. That, in turn, could cause interest rates to rise.
Fitch Ratings Agency said it would put the country on "Ratings Watch Negative" in such a scenario.
"Extensive payment arrears to suppliers of goods and services to the government ... would damage perceptions of U.S. sovereign creditworthiness and signal growing financial distress," the agency said in a recent report.
The S&P already has already downgraded its credit outlook on the United States to "negative" from "stable." And Moody's is considering doing the same.
Risk of default increases: This is the very worst and still least likely of outcomes, because most believe that there's no way the U.S. government would not pay its bondholders.
But if they don't raise the ceiling, lawmakers would raise the chance that those bondholders don't get paid over time. That could happen if the Treasury a) is somehow not able to prioritize payments to bondholders; or b) has to pay out more to bondholders than it has coming in on any given day.
In that case, the United States would lose its triple-A rating. That, in turn, could unhinge the global economic system, said influential bond investor Mohamed El-Erian has said.
The U.S. triple-A rating holds together many parts of the global system El-Erian told CNNMoney's Poppy Harlow. "We simply do not know how the global system will operate without the triple A. We'll see a lot of realignments that can be very costly. We'll be in the land of the unpredictable."
Federal Reserve Chairman Ben Bernanke worries that the country's AAA rating could be hurt even if Treasury continues paying bondholders, he told a House committee on Wednesday.
"I think it is possible that simply defaulting on our obligations to our citizens might be enough to create a downgrade in credit ratings."