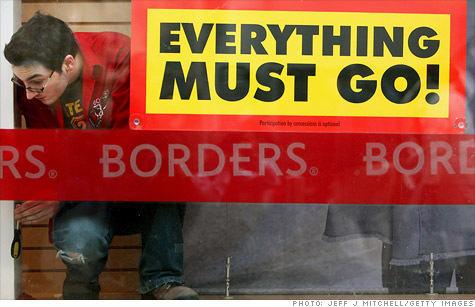 Borders bookstore chain inches closer to liquidation after takeover talks collapse.
NEW YORK (CNNMoney) -- Borders Group moved closer to liquidation after a key takeover offer from a private investment firm was rejected Wednesday.
Borders, which filed for bankruptcy protection earlier this year, had reached a deal in June with Direct Brands, owned by private investment firm Najafi Companies, to sell an undisclosed number of its stores to the firm.
Under the terms of the deal, Direct Brands would purchase Borders' (BGPIQ) assets for $215.1 million and assume $220 million in liabilities. The deal was subject to bankruptcy court approval.
On Wednesday, Najafi Companies said the deal fell through.
"We regret to confirm that Direct Brand's proposed agreement to keep Borders operating is no longer supported by the deciding parties," the company said in a statement.
"The deciding parties' legal team and financial advisors have elected another option which is in contrast to what we had envisioned for the future of Borders," the company said.
The investment firm said it was still willing to pursue a deal and stated that its intention was to "to keep Borders intact."
Borders declined to comment on the story other than to confirm that the company is expected to begin a court-supervised auction of the business next week on Tuesday.
Borders, the No. 2 bookstore chain after Barnes & Noble (BKS, Fortune 500), filed for bankruptcy protection in February when the company also announced that it would close 200 of its 659 stores. The company has 11,000 employees.