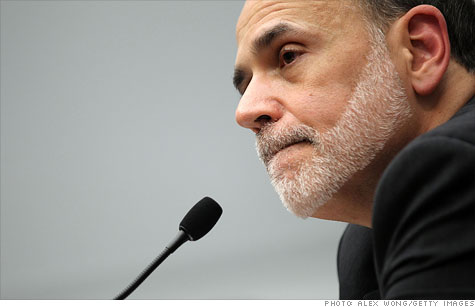 Fed Chairman Ben Bernanke
NEW YORK (CNNMoney) -- Federal Reserve Chairman Ben Bernanke was back on Capitol Hill Thursday, warning that failure by Congress to raise the debt ceiling would be "a calamitous outcome."
Bernanke, testifying before the Senate Banking Committee, warned that even if the federal government continues to pay interest to Treasury holders, the inability to make other payments would be a shock to the entire financial system.
"Whether default is on securities, or on obligations to Medicare recipients, it's a default of some kind," he said in response to a question.
And he said while the Fed would do what it could to respond to such a default, that the central bank would not be able offset the impact of the damage.
His remarks echoed recent warnings from credit rating agencies that there could be a downgrade in the nation's credit rating if the debt ceiling isn't raised.
Bernanke's comments were part of his semi-annual update to Congress on monetary policy. While there were some questions about whether the Fed would take additional steps to spur the economy, the threat of inflation and what could be done to lower unemployment, most of the discussion focused on the debt ceiling debate.
Many of the senators used the opportunity to make statements about the debt ceiling issue, and then asked Bernanke to comment.
At one point, Sen. Bob Corker, the Tennessee Republican, joked about the political debate by referring to Bernanke as a 'prop.'

"I'll continue with what has been the tradition of this morning of using you as a prop to make our own point," he told Bernanke.
Some Republicans suggested that there would be limited impact to the nation's credit rating and interest rates as long as the government continues to pay interest on Treasuries. And they said investors and credit rating agencies would also react badly if the debt ceiling were raised without any agreement to cut the deficit.
While Bernanke agreed that long-term deficit cuts were necessary, he also explained that if the debt ceiling is breached, interest that the government pays on its debt will rise, pushing the deficit higher.

He said global confidence in U.S. Treasuries and the nation's AAA credit rating are among the nation's greatest economic assets.
"Losing that credit rating would be a self-inflicted wound," he said.
It would also be bad news for the labor market, Bernanke explained, which is an area of growing concern since the June jobs report showed hiring slowed to a near halt.
Bernanke said failure to raise the debt ceiling would reduce business investment by raising borrowing costs. It would also raise uncertainty, and hurt bondholders.
"I can only conclude this would be very bad for jobs," he said.
Bernanke had a similar message Wednesday when he testified before the House Financial Services Committee.