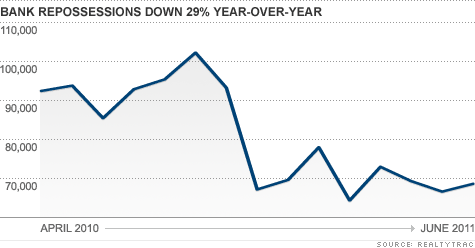 NEW YORK (CNNMoney) -- Foreclosure filings fell dramatically during the first half of the year as processing delays at the banks, which are strapped with excess inventory of repossessed homes, continued to skew the numbers -- and falsely raise hopes that the housing market is staging a recovery.
Foreclosure filings plunged 29% compared with the same period a year ago and were down 25% from the last six months of 2010, according to the latest report from RealtyTrac, an online marketer of foreclosed properties.
Through June 30, 1.2 million U.S. homeowners -- or one in every 111 households -- received a foreclosure filing, according to RealtyTrac.
The deceleration in defaults continued as the year wore on with second quarter filings -- at 608,235 households -- marking the lowest quarterly total since the end of 2007, when the mortgage meltdown was still in its youth.
RealtyTrac's CEO, James Saccacio, sounded a sour note, however, contending that the drop-off in filings can be traced not to economic improvement or a pick-up in the housing market, but to processing delays brought on by the robo-signing scandal in which it was discovered that bank employees were signing foreclosure documents without following proper protocols.
"[That's what is] pushing foreclosures further and further out -- we estimate that as many as 1 million foreclosure actions that should have taken place in 2011 will now happen in 2012, or perhaps even later," Saccacio said.
As a result, it will only prolong the housing slump, he said.
"This casts an ominous shadow over the housing market where recovery is unlikely to happen until the current and forthcoming inventory of distressed properties can be whittled down to a manageable number," said Saccacio.
Evidence of delays
In the past, banks acted rapidly, often sending out notice of default a few weeks after not receiving a check. These days, they wait much longer, according to Rick Sharga, a spokesman for RealtyTrac.
This is partially due to the fact that banks are already saddled with a large number of repossessed homes and aren't eager to take on more. Following the robo-signing scandal, banks are also taking longer to process foreclosures that are filed to make sure they are done legally.
The average time to process a foreclosure -- from the initial notice to the final sheriff's or trustee's sale -- rose to 318 days in the second quarter, up nearly 7% from 298 in the first quarter and 15% year-over-year, according to RealtyTrac.
In New York, the process now takes an average of 966 days -- or more than two and half years. In New Jersey, it's 944; and in Florida, 676. Texas is quickest out the door with a scant 92 days, followed by Virginia at 106.
Due to this slowdown, the number of homes that were repossessed by the banks has been declining, too. During the second quarter, a total of 203,876 homes were taken back, down 5% from the 215,046 recorded in the first three months of the year.
Even initial filings, the notices of default banks send borrowers who start to miss payments, are being delayed.
In California, RealtyTrac found the average amount of missed payments documented in notices of default had jumped to $70,000 in 2011, up from $17,000 in 2007.
Sharga believes the disparity is not due to an increase in loan value, which was only 10% to 15% higher in 2011, but because the initial foreclosure filings come at a much later stage of default, when many more monthly payments had been missed.
Delaying the inevitable
Ultimately, the artificial foreclosure delays are prolonging the housing market's ills, said Arnold Kling, an economist with the Mercatus Center at George Mason University and formerly with Freddie Mac.
"The government should be trying to speed foreclosures, not stop them," he said. "Postponing foreclosures may simply be putting off the inevitable market bottom. We need to remove barriers to foreclosures."
In fact, he believes the litany of government foreclosure prevention programs are doing more harm than good.
"Instead of housing returning to somewhat normal condition by 2014, we're looking at 2015 or even 2016," he said.