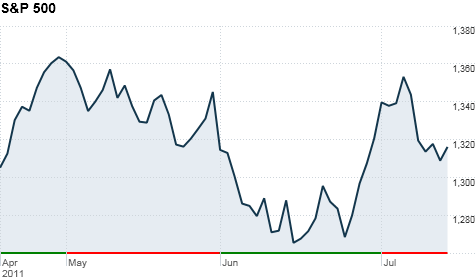 Stocks have struggled in the past three months in part on concerns that a slowing U.S. economy could impact corporate profits. Click the chart for more market data.
NEW YORK (CNNMoney) -- Wall Street will be awash in corporate news this week, as some the nation's largest and most influential companies report their quarterly results.
In total, more than a fifth of the S&P 500 and half of the 30-member Dow Jones industrial average will report their results this week, including General Electric (GE, Fortune 500), Goldman Sachs (GS, Fortune 500), McDonald's (MCD, Fortune 500), Apple (AAPL, Fortune 500), Intel (INTC, Fortune 500) and IBM (IBM, Fortune 500) just to name a half dozen.
Investors expect this week to be a pivotal moment for the market. U.S. stocks have struggled in the past three months in part because of growing concerns that the struggling U.S. economy may start impacting corporate profits.
"The bright spot in this economy has been corporate earnings - and that's been the lone bright spot," said Dean Barber, president of Barber Financial Group. "While we expect a strong earnings season, you cannot have Corporate America and the economy heading in two different directions for too long."
Because the lineup for corporate earnings this week is diverse, there isn't one particular company or sector that investors should focus on, said Marc Pado, U.S. chief market strategist with Cantor Fitzgerald.
"You could see a major turning point in the market based on this week's earnings," said Marc Pado, U.S. market strategist with Cantor Fitzgerald.
Because typically second-quarter earnings are the weakest of the year due to the lack of economic activity, Pado said it's best to look at next week's earnings broadly and compare them year over year. Analysts are looking for second quarter earnings for the S&P 500 to rise 6.5% compared to last year, according to the S&P 500.
Financials will likely be one of the focuses again this week as investors digest results from the brokerages Goldman Sachs and Morgan Stanley as well as results from Dow member Bank of America.
Along with corporate earnings, the debt ceiling debacle is expected remain a major issue next week, particularly if Congress and the White House remain at odds in reaching a compromise.
Stocks turned lower last week, as strong corporate earnings were offset by ongoing concerns regarding the U.S.'s debt ceiling.
"If we get a deal done on the debt ceiling and the market focus shifts back to earnings - as it should - we'll see this market take off," Pado said.
On the Docket
Monday -- A few S&P 500 names reporting on Monday include Hallburton (HAL, Fortune 500), Wynn Resorts (WYNN) and toy maker Hasbro (HAS).
After the closing bell, IBM (IBM, Fortune 500) will report its quarterly results. Analysts surveyed by Thomson Reuters expect the technology giant to earn $3.03 a share.
Tuesday -- Dow components Coca-Cola (KO, Fortune 500), Johnson & Johnson (JNJ, Fortune 500) and Bank of America (BAC, Fortune 500) report their earnings before the bell on Tuesday. Other names to report include Wall Street giant Goldman Sachs, which is expected to earn $2.27 a share.
Bank of America's results are expected to be closely watched after the company disclosed late last month it settled a lawsuit regarding its mortgage-backed securities. Analysts are expecting BofA to post a loss of 90 cents a share.
In economic data, Wall Street will get June housing starts and building permits from the Commerce Department at 8:30 a.m. ET.
Apple is scheduled to report its earnings after Tuesday's closing bell. The iPod, iPad and Mac computer maker is forecasted to earn $5.80 a share. Also out after the bell on Tuesday are results from Yahoo!.
Wednesday -- Before the bell, Dow member United Technologies will report its quarterly results along with S&P members BlackRock (BLK, Fortune 500) and Altria (MO, Fortune 500).
The National Association of Realtors will release their June existing home sales data as well.
After the bell, Dow members American Express (AXP, Fortune 500), and chipmaker Intel will issue their quarterly results.
Thursday -- Before the bell, Dow members AT&T (T, Fortune 500) and Travelers (TRV, Fortune 500) will report their results. Also reporting on Thursday is Morgan Stanley, who is expected to post a loss of 62 cents a share.
On the economic front, the Labor Department issues its weekly jobless claims data at 8:30 a.m. ET. The Philadelphia Federal Reserve will release its July manufacturing survey at 10 a.m. ET.
Economists surveyed by Briefing.com expect weekly jobless claims rose to 411,000 claims last week compared with the 405,000 claims reported the week before.
Federal Reserve Chairman Ben Bernanke is scheduled to testify in front of the Senate Banking Committee starting at 10 a.m. ET on Thursday. The chairman is speaking on the Dodd-Frank financial regulatory reform law.
After the bell, investors will get earnings results from Intel competitor Advanced Micro Devices (AMD, Fortune 500) as well as software giant Microsoft (MSFT, Fortune 500). Analysts expect to earn 58 cents a share, according to Thomson Reuters.
Friday -- Four Dow components report their quarterly results on Friday: Verizon (VZ, Fortune 500), General Electric, Caterpillar (CAT, Fortune 500) and McDonald's.
Analysts expect that Verizon earned 55 cents a share last quarter, while GE earned 32 cents a share, McDonald's had a profit of $1.28 per share and Caterpillar earned $1.79 a share.
Other names reporting on Friday include former Dow member Honeywell (HON, Fortune 500), imaging company Xerox (XRX, Fortune 500) and oil company Schlumberger (SLB).
There's no scheduled economic data out this day.