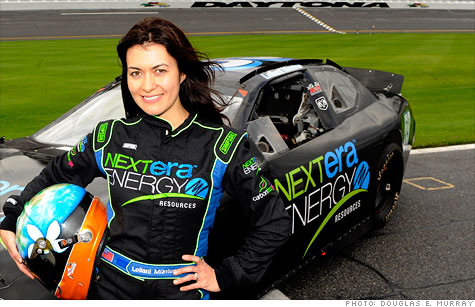 The EPA enlists NASCAR star-power in its latest push to get Americans to go green.
NEW YORK (CNNMoney) -- NASCAR is one of the most popular sports in America, but stock car racing is probably not the first thing you think of when it comes to protecting the environment.
The Environmental Protection Agency is hoping to change that, with the help of Leilani Munter, a star NASCAR driver and eco activist.
Munter is scheduled to film a public service announcement for the EPA on Friday as part of a campaign to encourage Americans to "Pick 5 for the Environment."
While the partnership might seem unlikely, Munter said NASCAR fans are more open to environmental issues than one might expect.
"I understand the stereotype," she said in a phone interview. "But just because they like fast cars doesn't mean they don't care about the planet."
A biologist by training, Munter was one of only three women to qualify for the Daytona 2010 ARCA race on speed, according to her website.
Munter said she has been promoting environmental issues for years and is exclusively sponsored by green companies. She said working with the EPA will help her bring her message to a broader audience.
"I'm trying to use my voice as an athlete to make a difference," she said.
Meanwhile, the popularity of NASCAR, which had been waning over the last few years, rebounded in 2010. Fox, a division of News Corp. (NWSA, Fortune 500), averaged 8.6 million viewers for its 13 Sprint (S, Fortune 500) Cup Series telecasts last year, up 9.7% from 2009, according to Nielsen. The network has a $1.76 billion contract with NASCAR.
In the PSA, which will be broadcast on television and online, Munter promotes five simple ways that everyday Americans can help protect the environment, and perhaps save some money along the way.
These include turning off the water when brushing your teeth, using public transportation or commuting by bike, adopting a plant-based diet, foregoing plastic bags and bottles, as well as turning off lights and appliances when not in use.
The goal is to get NASCAR fans and others to change bad habits and make small sacrifices that could help the environment in a big way, said Munter.
"There are 75 million NASCAR fans," she said. "If every one of them stops using plastic bags, that could have a huge impact."