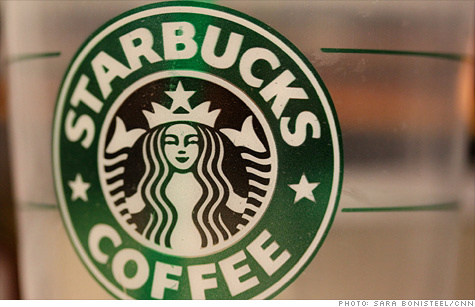 Starbucks union workers strike which seeks pay and benefit increases was officially recognized by the Chilean government Friday.
NEW YORK (CNNMoney) -- Starbucks is facing its first worker strike in history.
The Chilean Labor Agency said Friday that Starbucks' (SBUX, Fortune 500) unionized workers have been on strike there since July 7th, seeking pay and benefits increases.
Of the 700 employees the coffee seller employs in Chile, about 200 are in the union. According to the Chilean government, most of the unionized workers haven't been showing up to work since last week.
However, Starbucks believes that those calculations are wrong.
Chile has seen a growing wave of protests in recent weeks, led by students demanding cheaper and better education as well as environmentalists and copper miners.
On June 25th a little more than 50% of Starbucks' union employees voted to go on strike there. In order for a strike to be officially recognized in Chile, at least half the union members must not go to work.
Although last Thursday was the first day of the strike, the labor bureau in Chile had to confirm that more than half the workers skipped work before it could consider the strike legal.
Starbucks said its 31 cafes in Chile would remain open despite the absence of union workers and says it hopes to resolve this situation in the near future.
Most of the coffee shops are in Santiago, the Capital.
Besides a salary increase, Starbucks says the union in Chile has a list of 25 different demands including a wedding bonus and a birth of a child bonus. The company considers those demands to be above and beyond industry standards.
Starbucks spokesman Jim Olson says entry level pay for baristas in Chile is $3.30, depending on various employee elective deductions like healthcare and retirement contributions the average net is $2.50. On average he says baristas salaries are 30% above the industry average in Chile.
The union was not immediately available for comment.
Starbucks operates roughly 17,000 cafes in more than 50 countries around the world.
-- Luis Carlos Vélez is anchor of "World Business Today" which airs at 8p EST on CNN International.