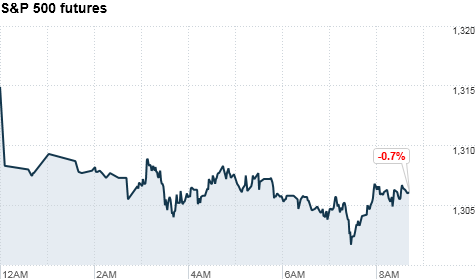 Click chart to track futures.
NEW YORK (CNNMoney) -- U.S. stocks were poised to fall Monday, as uncertainty over the U.S. debt ceiling and worries about European debt put investors on edge.
Dow Jones industrial average (INDU), S&P 500 (SPX) and Nasdaq (COMP) futures were lower ahead of the opening bell. Futures measure current index values against perceived future performance.
Uncertainty drove investors to gold, which hit a new intraday record high of $1,602.50 an ounce in early trading. Investors see gold as the best place to park their money when there's economic or political uncertainty.
Early Monday, rating agency Moody's went so far as to suggest the debt ceiling itself should be eliminated to bring greater stability and avoid "periodic uncertainty."
All of that combined is likely to lead to volatile trading Monday, said Peter Cardillo, chief market economist for Avalon Partners
"The debt worries both here and abroad continue to weigh on the markets," he said. "There is just too much uncertainty."
Late Friday, European regulators said 8 banks will need 2.5 billion euros ($3.5 billion) to survive a serious downturn, and that 16 other lenders passed but should raise more money.
In the U.S., uncertainty over a debt ceiling deal is likely to keep investors on their toes this week. Lawmakers showed little progress over the weekend, as no formal negotiations took place.
Stocks posted solid gains Friday, following better-than-expected corporate earnings. But European debt woes dragged major indices more than 1% lower for the week.
Investors will also be looking to another round of earnings results for any indications the hiring picture is improving.
Companies: In total, more than a fifth of the S&P 500 and half of the 30-member Dow Jones industrial average will report their results this week.
Citing strong demand, toymaker Hasbro (HAS) said its net income in the second quarter was $58.1 million, or 42 cents per share, up from $43.6 million or 29 cents per share last year.
Halliburton (HAL, Fortune 500) reported better-than-expected net income of $739 million, or 80 cents per share. The oil services company also beat revenue forecasts. Shares rose 1% in premarket trading.
After the closing bell, IBM (IBM, Fortune 500) will report its quarterly results. Analysts surveyed by Thomson Reuters expect the technology giant to earn $3.03 a share.
Wynn Resorts (WYNN) is also expected to report Monday afternoon.
Fallout from a phone hacking scandal continued to wrack News Corp. (NWSA, Fortune 500) Authorities arrested and then released former News of the World editor Rebekah Brooks over the weekend. News Corp.'s stock was off almost 5% in premarket trading.
World markets: European stocks were sharply lower in morning trading. Britain's FTSE 100 shed 1.3%, the DAX in Germany slipped 1.5% and France's CAC 40 lost 1.6%.
Shares of Nokia (NOK), Alcatel-Lucent (ALU), Ericsson (ERIC), Bank of Ireland (IRE) and the National Bank of Greece (NBG) were among European ADRs trading lower in the early going as investors worried about how widespread Europe's problems were.
Asian markets ended the session lower. The Shanghai Composite dropped 0.1%, the Hang Seng in Hong Kong lost 0.3%. Japan's Nikkei was closed for a holiday.
Currencies and commodities: The dollar strengthened against the euro and British pound, but weakened against the Japanese yen.
Oil for August delivery slipped 51 cents to $96.73 a barrel.
Bonds: The price on the benchmark 10-year U.S. Treasury rose, pushing the yield down to 2.89% from 2.95% late Friday.