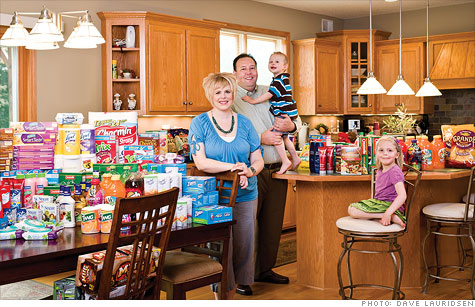 Michelle and Darren Gutwein with kids Alex and Zoey, and the $750 worth of groceries they bought for $122.
(Money Magazine) -- Malinda Hodges, a 41-year-old business technology consultant for Bank of America, is one of many coupon enthusiasts who never dreamed she would find herself stockpiling men's deodorant under the bathroom sink. But in 2008, when her husband, Dwayne, was laid off from his job in the mortgage industry, she began using coupons to help support their three children, now ages 3 to 12, and her mom, who lives with them in Fort Mills, S.C. Dwayne eventually found work, but Malinda never gave up her bargain-hunting ways.
Now couponing seems like a common sense way to live. She buys six Sunday newspapers for the inserts each week, then matches the coupons with weekly sales at nearby retailers, some of which double or even triple the coupon value.
It can be a lot of work -- she estimates she spends five hours a week couponing -- but Hodges has cut her $300 weekly grocery bill in half. "I plan meals around what's on sale and always try to save more than I spend," she says, adding that she never pays for toothpaste since there's always a deal to be found.
"We don't stockpile like the people on the TV show -- we don't have that much space," though she does admit to stashing away that deodorant, plus 23 tubes of toothpaste.
Like many serious couponers, Hodges loves scoring deals in large quantities so that she can give the extras to family, friends, and fellow church members. Never mind that buying 18 containers of deodorant at a deep discount might have cost more than paying full retail price for one. "It's a way to be a blessing to other people," says Hodges.
No price is right
Couponing is a popular example of what economists call "price discrimination." Like airline discounts that require a Saturday night stay, coupons are a way of collecting more from the people willing to pay more and less from people who will jump through hoops for a bargain.
If you don't mind devoting hours to clipping and learning coupon policies, you get a discount; if you consider that a hassle, you pay full price. In times of economic uncertainty, more people are willing to play the cat-and-mouse game.
"People who coupon have a definition of themselves as not being suckers," says Ariely. "They think, 'I'm more clever because I'm outsmarting the system.'"
The Internet has made couponing simpler than ever by automatically matching coupons with store sales -- once a laborious job -- and allowing consumers to find coupons easily. That, of course, has prompted manufacturers and stores to create more elaborate rules to keep the process difficult. Otherwise, they might as well just drop the prices for everybody.
The ideal consumer, from the brand's point of view, is a bumbling couponer who tries a new breakfast cereal with a 50-cent-off deal, then becomes hooked and pays the full price forever after.
Loyalty is a fault
There are no rigorous cost-benefit studies about coupon behavior, but an admittedly unscientific exercise by Coupons.com concludes that devoting 40 minutes a week can save you $1,400 a year on groceries, and nearly $6,000 if you factor in store sales.
You don't have to become an obsessive-compulsive couponer -- hauling binders through the store or driving miles out of your way for a free case of soda -- to save. Mary Henderson, a 31-year-old marketing specialist for Accenture who lives in Lombard, Ill., says she spends only about two hours a week couponing but saves $100 to $150, allowing her and her husband, Greg, to maintain their ambitious retirement and college savings regimen while she cuts back her work hours to spend more time with their 1-year-old, Evelyn. "We're still planning to retire at 55," she says.
It can be a challenge, however, for even serious couponers to find all the food they truly want to eat. Discounts for processed food like ramen noodles and crackers are easy to come by, but not so easy to find for fresh produce. Meat and dairy products can be tricky too, though dedicated couponers usually have extra freezers in the basement to stock up when those items go on sale. And you can forget about brand loyalty.
Catherine Boyle, 48, a Christian speaker and author in Richmond, is a devoted couponer when she shops for her husband, Barney, 50, a bank vice president, and their two children, ages 14 and 11. The kids have accepted having to give up their favorite JIF or Peter Pan peanut butter in favor of Skippy, which is often on sale."But I'd be drawn and quartered if I brought home generic peanut butter," Boyle says. "You can only go so far."
Low-price fix
The most popular coupon items are groceries and personal-care products, but once this addictive habit sets in, couponers find it nearly impossible to pay full price for anything. They search Google for discount codes, learn of sales through Twitter and Facebook, and sign up for restaurant mailing lists. Social-networking coupon sites even offer free vacations if you persuade others to buy the same package (though unless you split the discount with your pals, it could be awkward when they realize your trip was free).
New convert Michelle Gutwein, a 30-year-old IT professional in the Twin Cities area, found it difficult to resist the undertow once she started. When she first watched "Extreme Couponing," she thought couponers were crazy hoarders. "Flash-forward about six months, and now I'm one of them!" she says.
Gutwein has stockpiled goods in every available nook and cranny in the house she shares with her husband, Darren, and two children, 3 and 5. She buys meat in bulk and chops it up into one-pound bags to use later. The work has paid off. She estimates she saves $700 a month and is launching a blog to share tips.
But she began to think she had a problem when she found herself spending eight hours one day searching online and reading blogs. "I thought I had to go to every single store to stockpile goods," she says. "I was running myself ragged because I thought you had to do it the way they do on TV."
This is a common phenomenon in coupondom. Blogger Melanie Feehan calls rabid newbies "baby vampires" who clear the shelves of sale items, annoy other customers waiting in line, and drive store managers crazy. Fortunately, Gutwein says, she finally got hold of herself. "I realized with a busy family, you don't need to go to seven stores a week," she says. "Just pick and choose what you need."
E-mail The Help Desk your household budget questions.
At best, enthusiastic couponers are highly organized, efficient, smart, and mathematically-inclined Type A personalities. At worst, some appear to suffer from impulse-control problems such as obsessive-compulsive disorder, according to Bonny Forrest, a clinical neuropsychologist in San Diego who trained at Yale's highly regarded OCD unit -- though she hastens to add that couponers usually can't be considered hoarders. The clinical definition of hoarding requires clutter, and couponers tend to be excessively neat.
"It seems to be an addiction, like compulsive shopping," says Forrest. "Like the women who buy all those clothes they don't need because of the high it gives them, that feeling of self-esteem." The questions to ask yourself are: How much time does it take, does it interfere with your relationships, and does it stem from a fear of losing your job? "If so," says Forrest, "a more rational approach would be to spend more time at your job."
Matt Sharp, executive producer of Extreme Couponing, sees couponing not as a pathology but as an emerging subculture with its own rituals and mores. "It's a way of life," he says. "Yes, it's about saving money, but not in the regular way of being on a budget, giving up your Starbucks, and neglecting yourself," he says. "For couponers saving is fun, almost a sport."
For Lauren Liggett, a 22-year old college student who discovered the coupon-clipping, couponing has given her a productive and exciting way to spend her time, deepened her social connections, and let her help others who are less fortunate. "Before I started couponing, I wasted my time on the computer or watching TV," she says. "Now I'm spending time with friends, getting them into it, and going to stores together to see if we can find some good deals."
Like computer nerds who were scorned until the world realized how valuable their skills made them, serious couponers are starting to get more respect. When Liggett started couponing in January, her aunt told her she was crazy. But a few weeks ago she called from Connecticut. "You know that couponing thing you do?" her aunt said, a bit sheepishly. "Is there any way you can teach me?"