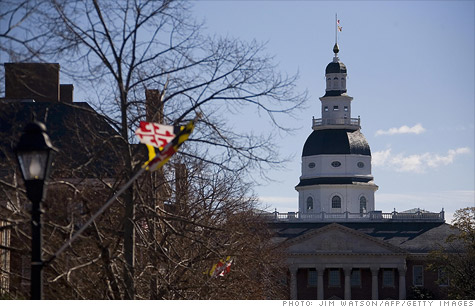 Maryland and four other states might lose their top credit ratings if the United States doesn't resolve the debt ceiling impasse.
NEW YORK (CNNMoney) -- Moody's Investors Services placed five states on review for possible downgrade if the United States fails to resolve its debt ceiling impasse and has its own stellar credit rating downgraded.
The five states -- Maryland, New Mexico, South Carolina, Tennessee and Virginia -- could all lose their Triple A rating if the U.S. rating is downgraded, Moody's said Tuesday.
Moody's took several factors into account when reviewing the states. They include: The prevalence of federal contracts and federal employment in the state; the state's reliance on variable rate borrowing, and its sensitivity to national economic trends. Some states have several of these factors.
In the event of a downgrade, states would likely have to pay investors a higher interest rate, making borrowing more costly for states. It would affect a total of $24 billion in debt in the five states.
The outlook for the other 10 states with top credit ratings from Moody's was not changed. Other states have lower credit ratings.
Moody's and Standard & Poor's last week warned that they would either change the outlook or rating of the U.S. if policymakers don't address the debt ceiling before Aug. 2. The ratings agencies have said they are expecting policymakers to not only raise the debt ceiling, but to agree to meaningfully reduce the debt.
The creditworthiness of the United States, which has always had a top rating, is being called into question as President Obama and Republican lawmakers clash over how to resolve the nation's debt problem. They are facing an Aug. 2 deadline, after which the nation will not have enough money to pay all of its bills without being able to borrow more.
Republicans would like to see big cuts in government spending, while President Obama has said he'd also like to raise tax revenues.