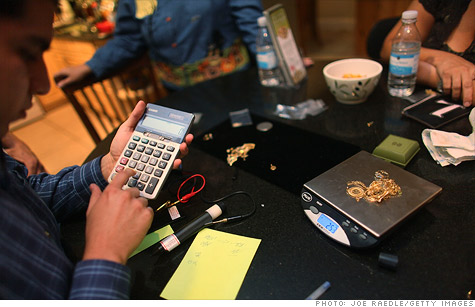 With the price of gold as high as it's ever been, more people are cashing in.
NEW YORK (CNNMoney) -- Yvette Shirey left a jewelry store near her home in Columbia, Md. Wednesday afternoon $1,000 richer.
After seeing gold prices soar earlier in the week, Shirey decided to sell a "muffin-sized" mound of old gold jewelry, including a necklace, some earrings and a bracelet she inherited from her mother.
Shirey admits she hesitated about certain pieces -- particularly when it came to a gold etched bracelet her mother bought in Indonesia -- but ultimately she was happy with her decision to sell. "Being unemployed and a single mom, I'm looking for any resources I can find to cover daily expenses," she said.
For many cash-strapped Americans, old gold jewelry has become a valuable resource. The price of gold -- considered a safe haven investment in tough economic times -- hit a record high this week as concerns grew over whether U.S. lawmakers could reach a deal over the U.S. debt ceiling by August 2.
Gold prices have since slipped on news of a new debt-reduction plan -- the commodity now hovers just below $1,600 an ounce -- and some consumers are ready to cash in before prices fall further.
"With each new market high, we see a fresh new group of consumers," noted Steven Hansen, president of scrap gold dealer Goldfellow.com. Traffic to his web site doubled in the last week, while foot traffic at the company's 45 locations is also up substantially, he said.
"Individuals will send in two to four pieces of jewelry and will get $1,500 to $2,000 -- that can cover a mortgage payment or a tuition payment to a private school," added Todd Hills, the CEO of a Pawngo, an online pawn shop. Hills says inquiries to his site have doubled since the start of the year.
Two weeks ago, Lisa Flowers Latorre sold her gold promise ring, along with a Ziploc bag of other forgotten jewelry, for $1,100.
The ring -- a gift when she was 14 -- didn't mean anything to her. But the cash did. As a single mom who also cares for her elderly mother, Latorre has been scraping by. "I depleted my emergency fund, so that was a big boost," she said. "I was able to catch my breath."
But as the price of gold rises, so do the odds of getting ripped off. In 2010, there were 574 complaints against gold, silver and platinum dealers, according to the Better Business Bureau. In 2011 there have been 416 complaints so far. We're already "on the way to double the number of complaints from last year," said Kelsey Owen, a spokeswoman for the nonprofit organization.
"It's a low barrier of entry business," Hansen explained. "There are a lot of fair buyers in the industry but there are quite a few paying less than what's appropriate."
Getting a fair price
Whether you are sending your gold to online buyers, attending gold parties at a neighbor's home or stopping into jewelry stores that advertise "we buy gold," there are a slew of options available to those eager to sell. Just keep in mind that the prices your jewelry can fetch vary widely.
As a rule, the weight and karat of the gold determines its value. Ten-karat gold means that it has 42% gold content and 58% other metals. Fourteen-karat gold is actually 58% pure gold and about 75% of the content of 18-karat jewelry is gold.
Therefore, a piece of 14-karat gold jewelry that weighed about an ounce would be worth $928, or 58% of $1,600 -- the current market value. From there, a seller could expect an offer of around 60%-80% of that price, or $550 to $750.
At some dealers, however, those valuations get fuzzy, and that's where consumers need to be cautious.
"They should be able to tell you what you are getting per ounce or per gram," advised Janece White, a vice president at Chubb Personal Insurance. "Then I'd say 'thank you,' take it back and go somewhere else to make sure you are getting the best price."
In addition to shopping around, White says sellers should opt for a reputable neighborhood jewelry store over a company that advertises late at night on cable.
Consumers can check the Better Business Bureau's site for consumer complaints against a company. For example, Goldfellow currently has zero complaints, while another online gold buyer, Cash4gold.com, has 352 complaints registered against it. (Cash4gold was not immediately available for comment.)
The BBB also offers these tips on its site for those ready to cash in:
• Know the weight. If you measure your jewelry yourself, keep in mind that jewelers use a different measurement standard called a Troy ounce. A common U.S. scale will measure 28 grams per ounce, while gold is measured at 31.1 grams per Troy ounce. To add to the confusion, some dealers will also use a system of weights called pennyweight to measure a Troy ounce while others will use grams. A pennyweight is the equivalent of 1.555 grams, so consumers should also be aware of how their jewelry is being measured to determine if the price is fair.
• Know the karat. The Federal Trade Commission requires that all jewelry sold in the U.S. describe a karat fineness. Fourteen karats means jewelry is 14 parts gold and 10 parts other metals, or about 58% gold. Most jewelry ranges between 10 and 18 karats and jewelry of different karats should be weighed separately. Sometimes dealers will weigh all the jewelry together and give you the lowest karat value - another pitfall to avoid.
• Know the current price of gold. Always check the fair market value first to be sure you are getting a good deal.