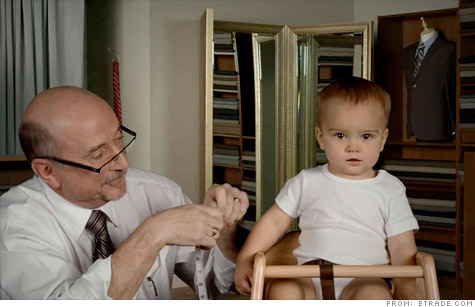 E*Trade, known for its Super Bowl commercials starring a talking baby, is one of the most popular online brokerage firms but has seen its stock decline 94% over the last five years.
NEW YORK (CNNMoney) -- The E*Trade baby may soon have a reason to stop crying.
E*Trade Financial (ETFC) shares surged more than 15% Wednesday, after the company's largest shareholder publicly urged a possible sale of the company.
Citadel, the hedge fund that owns a 9.8% stake in the company, sent E*Trade a letter filed with the Securities and Exchange Commission, requesting a special shareholder meeting to discuss strategic alternatives, including a sale of the company.
Citadel is basically fed up after E*Trade posted four years of losses and saw its stock decline 94% over the last five years.
"The facts speak for themselves -- stunning losses from the Company, catastrophic losses for the shareholders," the letter said. "This is the story of E*Trade's poor management decisions."
Citadel cited toxic mortgage-backed securities as weighing on the company, and specifically called for the removal of Michael Parks and Donna Weaver from the company's board.
The letter claims that five of E*Trade's board members received $7 million in compensation, while presiding over the company's mortgage investment strategy and costing the company millions in losses.
E*Trade is the third largest publicly traded online brokerage firm, behind Charles Schwab (SCHW, Fortune 500) and TD Ameritrade (AMTD).
While E*Trade's brokerage business is strong, its $15.8 billion loan portfolio -- which includes mortgages and home equity loans -- remains a challenge for the company.
"The brokerage business is clearly attractive here, but if you buy the company, it comes with a loan portfolio with question marks around it," said Chris Allen, senior analyst with Evercore Partners.
Citadel's letter brings a new protagonist to drive change in the company, Allen said, but whether that can translate into shareholder value still remains to be seen.
E*Trade is Citadel's largest holding after its stock in Apple (AAPL, Fortune 500) and Google (GOOG, Fortune 500).
E*Trade declined to comment on this story.