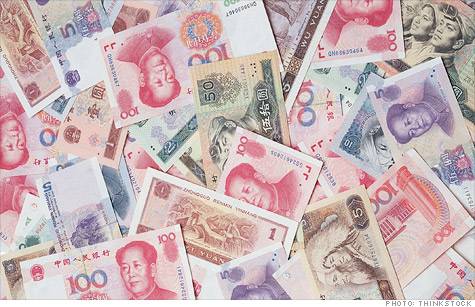 The Chinese government wants the U.S. to get its debt under control.
NEW YORK (CNNMoney) -- The Chinese government, the top international investor in U.S. Treasuries, urged the U.S. government to get its debt under control or its credibility will suffer.
"We hope the U.S. government will take responsible policies and measures to boost global financial market confidence and respect and protect the interests and investors," said the Chinese government's State Administration of Foreign Exchange in a statement on its website.
The Chinese statement referred to U.S. debt as "the reflection of the credibility of the U.S. government" and an important investment tool.
The Chinese government also said it "noticed the opinion expressed by S&P and other rating companies regarding the credibility rating of the U.S. sovereign debt," offering an unpleasant reminder of a recent credit rating action.
In April, Standard & Poor's said the United States was at risk of having the triple-A rating on its debt lowered within two years if Washington can't agree on bringing down the national deficit. The agency lowered the outlook on America's long-term credit rating to "negative" from "stable."
In Washington on Tuesday, a bipartisan group of Senators called the Gang of Six put forward a plan to slash the nation's deficit by about $3.7 trillion over ten years. The plan has received praise from other senators and President Obama.
Meanwhile, U.S. lawmakers are locking horns over whether they should increase the debt ceiling by Aug. 2. Failure to raise the debt ceiling could result in a default.