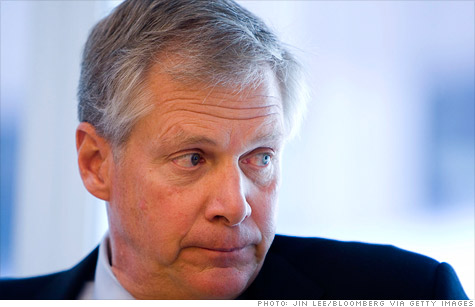 Caterpillar chairman and CEO Doug Oberhelman believes a ''lack of confidence in the business climate' is holding back the U.S. economy.
NEW YORK (CNNMoney) -- For a while, "uncertainty" has been the buzzword economists use to describe the main hurdle holding back the recovery.
Now Caterpillar's CEO is chiming in, saying it's true -- at least for his business. Washington's dawdling on the debt ceiling, trade agreements and tax policy is causing his customers to hold back on buying heavy machinery.
"Lack of clarity on a U.S. deficit reduction plan, trade policy, regulation, much needed tax reform and the absence of a long-term plan to improve the country's deteriorating infrastructure, do not create an environment that provides our customers with the confidence to invest," Caterpillar (CAT, Fortune 500) chairman and CEO Doug Oberhelman said in the company's earnings release Friday.
It wasn't the first time Oberhelman has been an outspoken critic, accusing the government of creating a murky business climate.
In March, he sent a letter to the governor of Illinois, hinting that the company might leave the state for greener pastures, after lawmakers there raised taxes for both businesses and individuals. He changed his mind a week later, after meeting privately with Gov. Pat Quinn.
Oberhelman is a regular donor to the Republican party, and in 2008 he contributed the legal maximum of $4,600 to John McCain's campaign, according to records tracked by the Center for Responsive Politics.
Caterpillar is headquartered in Peoria, and employs 23,000 people in Illinois alone. As one of the world's largest manufacturers of construction and mining equipment, the company employs 104,000 people around the globe.
The company's U.S. operations were hit hard by the decline of the construction industry after the housing bubble burst. But internationally Caterpillar has benefited from strong industrial growth in emerging markets like China.
Overall, Oberhelman said the company expects the U.S. economy to grow moderately, but "a lack of confidence in the business climate is the major impediment to a stronger recovery and job creation."
The company said it forecasts the U.S. economy will grow 2.5% in 2011, down from 2.9% in 2010. In contrast, it expects China's economy to grow 9%, compared with 10.3% in 2010.
Second-quarter earnings: Caterpillar's net income rose to $1.02 billion, or $1.52 per share, in the three months ended June 30. That marked a 44% increase over the year-earlier quarter.
Excluding one-time charges related to Caterpillar's acquisition of Bucyrus, earnings came in at $1.72 a share, and fell short of analysts' estimates for $1.74.
Revenue of $14.2 billion was up 37% from a year earlier.
Japan's tsunami and earthquake caused the company a major setback in the second quarter, hitting Caterpillar's bottom line with a $200 million blow to sales and a $60 million impact on its operating profit.
Caterpillar shares fell 7.7% in early trading.