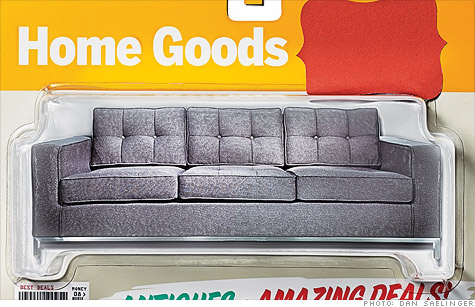 NEW YORK (Money Magazine) -- "Inventory overhang drove furniture prices down as much as 25% in 2008, but they're going back up," says industry analyst Jerry Epperson of Mann Armistead & Epperson. That's for new pieces, mind you.
As millions of older Americans downsize to smaller homes, antiques are flooding estate sales, consignment stores, auction houses, flea markets, and eBay -- at amazing prices.
Time it right. Like clothes, furniture and other home goods are seasonal. New merchandise arrives in stores twice a year, and sales are pegged to clear out old inventory.
Discounts start at 20% around Memorial Day and again around Veterans Day in November, according to Jackie Hirschhaut of the American Home Furnishings Alliance.
The percentage off tends to increase as the weeks pass; you'll find the best bargains (up to 60% off) after July 4 and Christmas.
Don't feel like waiting? Christine Edmonds, an interior design consultant at Trove Decor in Newtown, Pa., suggests you check out Room & Board (roomandboard.com). "It sells well-built, good-value, timeless pieces that mesh with just about any decor" - and the company generally keeps prices at the same reasonable level year-round.
Use high-tech helpers. For flash sales on high-end home goods, check out onekingslane.com and gilthome.com.
Follow your local Groupon and LivingSocial feeds for housewares sales near you. And never buy anything without Googling a promo code: You might score 10% off or free shipping -- which, with heavy furniture, can really add up.
Send The Help Desk your questions.
Go vintage for certain pieces. Wood furniture built 40 or more years ago is often better quality than similarly priced new pieces, according to Edmonds.
"The best bargains today are on dining tables and chairs - they're the first thing people get rid of when they downsize," says Carolyn Baker of Baker Auction and Estate Sale Services in Denver. "You can find nice sets for about $200 to $400 now." (Avoid upholstered items; the cost of replacing the fabric will ruin the deal.) Find estate sales near you at estatesales.net and auctions by searching NAAAuctions.com.
THE TYPICAL FURNITURE BUYER PAYS 46% AMOUNT ABOVE WHOLESALE
What you don't know. Full-price furniture in stores is marked up as much as 70% over wholesale, says analyst Epperson. But since the average furniture buyer pays far less, there's plenty of wiggle room to negotiate on the showroom floor.
EXPERT PICKS
From Nicole Gibbons, interior designer and blogger (sohautestyle.com)
$749 - Room & Board's Cole chair. "Most mass-market cushions are just foam. This chair is a foam and down blend, which is higher quality. You can choose from 200 fabrics, for a custom look at about 25% of the price of custom furniture."
$1,250 - A vintage dresser. "Buy vintage or antique wood furniture - it holds its value. I recently found a beautiful 1950s French-style dresser at an antique store for $1,250; something similar from a mass retailer might have cost $2,500