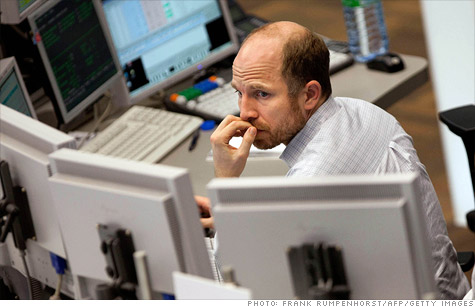 NEW YORK (CNNMoney) -- Stocks around the world fell Monday, as markets reacted to news that congressional leaders and the Obama administration failed to reach agreement on a deal to raise the U.S. debt limit.
Tokyo's Nikkei 225 closed lower 0.8% at 10,050. In Hong Kong, the Hang Seng index lost 0.7%.
The Shanghai Composite index dropped a full 3%. Contributing to the loss was a decline in railway-related stocks after a bullet train collision over the weekend killed at least 38 people.
In Sydney, the Australian Stock Exchange's All Ordinaries index was off 1.5%.
European markets fared better Monday morning. Even after Moody's announced another downgrade to Greece's debt, indexes declined -- but not as much as some analysts had feared. (Check the latest in world markets)
Meanwhile, trading in U.S. stock futures -- which indicates the likely direction when actual stock trading begin Monday morning -- were lower. S&P 500 (SPX), Nasdaq composite (COMP) and Dow Jones industrial average (INDU) futures were down a little less than 1%.
President Obama and congressional Republicans have been at odds for weeks over a debt-reduction plan, that some lawmakers demanded in response for raising the debt ceiling.
After negotiations between House Speaker John Boehner and Obama fell apart late Friday, lawmakers set a Sunday deadline find a resolution before Asian markets opened for trading.
While lawmakers failed to meet the deadline, market losses were moderate as investors maintained faith that a deal will be reached soon.
The United States hit the debt ceiling in May. Treasury Secretary Tim Geithner has said that by Aug. 2 he will no longer have enough cash to pay all the country's bills on time.
Legislative leaders on Capitol Hill spent the weekend in talks trying to strike a deal, but made no progress as each side decided to pursue a separate plan.
-- The CNN Wire contributed to this report