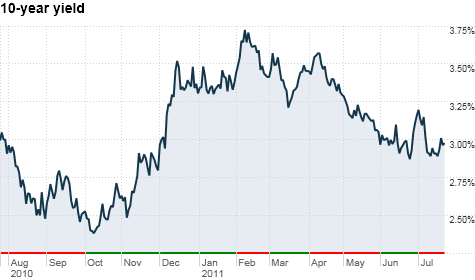 Click the chart for more market data.
NEW YORK (CNNMoney) -- As policymakers in Washington continue to butt heads over the debt ceiling, the response in the bond market Monday was relatively subdued.
The latest effort to resolve political differences over the nation's fiscal policy this weekend ended in a deadlock. But fears of an abrupt sell-off in U.S. Treasuries did not come to fruition -- at least, not on Monday.
Investors expressed frustration with the failure of policymakers to agree on a near-term budget proposal necessary to raise the federal borrowing limit. The fear is that a delay could lead to a downgrade of U.S. debt if the government has to default on some of its obligations next week.
Although the market still has some degree of confidence that a deal will get done, the threat of a default has become increasingly real for many investors.
"My confidence in their ability to work together to solve problems is very low," said William Larkin, a fixed-income portfolio manager at Cabot Money Management. "That's why I'm not buying anything right now."
The risks are potentially huge. If Congress fails to act, the Treasury Department has said that on Aug. 2 it will run out of the cash it needs to pay all of the federal government's bills on time.
All three major credit rating agencies have warned in the past week that they are considering a downgrade of the nation's debt.
To date, the U.S. has enjoyed its AAA rating in part for having always stood behind its debt and paying its bills on time. As a result, U.S. Treasury bonds are considered the world's safe-haven investment.
If the U.S. were to lose its AAA status, foreign investors, who hold about half of all U.S. Treasuries, might demand higher interest rates in exchange for buying the debt.
"A default would be extremely negative for Treasuries," said Kim Rupert, a fixed-income analyst at Action Economics.
However, many bond market watchers suggested that stocks are more vulnerable to the ongoing debt ceiling drama. By contrast, some say Treasuries could actually benefit from a flight to safety if the debt ceiling isn't raised.
"I don't think that Treasuries will be as damaged as people think," said Larkin. "But the stock market will take a nose dive."
Rupert said short-term Treasuries could outperform stocks in such a scenario, but longer-dated maturities would probably suffer. "You wouldn't want to be in longer bonds," she said.
In the next few days, a reduction in supply could also support Treasuries, analysts said.
The Treasury has scaled back recent offerings of short-term bills in preparation of a possible delay in raising the nation's borrowing limit. On Monday, the government announced plans to offer $18 billion worth of 1-month bills, down from an average of about $28 billion in recent months.
Another reason why Treasuries have held their ground is that a default would not necessarily result in huge losses for holders of U.S. debt. Treasury would probably have to furlough workers and make other adjustments if the debt ceiling is not raised, but analysts do not expect it to immediately miss interest payments on the federal debt.
"I think the market is viewing it as default in name only, not a serious threat to their status," said Rupert.
Still, a default by the U.S. could further rankle the nation's main creditors. China, which has the most exposure to U.S.-backed securities, has already raised its rhetoric on America's unsustainable debt load.
In addition, many institutional investors, including money market funds and pensions, are required to hold only AAA-rated securities. If the U.S. government is downgraded, those funds may be forced to dump billions worth of U.S. paper.
In what will be a key test, the government is set to offer $99 billion worth of 2-year, 5-year and 7-year Treasuries in three auctions this week.
Analysts say the auctions will provide a barometer of market sentiment, particularly when it comes to the appetite foreign investors have for U.S. debt.
"The quality of auctions will start to dictate supply and demand and new yields," said Larkin. "It's going to be a slow, gradual grind higher if they don't get things resolved."
Larkin said he's watching the yield on the 30-year bond for signs the market is getting nervous. If it goes above 4.4%, he said, the market is sending a clear distress signal. The 30-year yield now stands at about 4.3%.
On Monday, the yield on the 10-year note edged up to 2.98% from 2.96% late in the day.
But for traders, the murky outlook for the debt ceiling is keeping Treasuries in a narrow trading range.
"Everything is so uncertain," said Rupert. "It's difficult to trade."