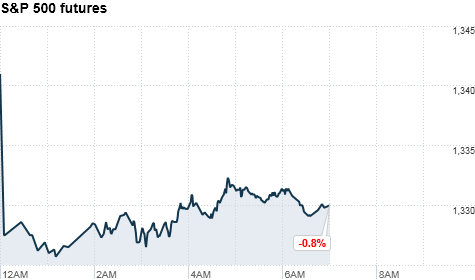 Click chart to track futures.
NEW YORK (CNNMoney) -- U.S. stocks were headed for early declines Monday, after Congress failed to find common ground on a deal to raise the debt ceiling over the weekend.
But market reaction was relatively muted as investors remain steadfast in their belief that a deal is in the pipeline.
"The view is that the U.S. will at some point this week have a deal done," said Manoj Ladwa, a senior trader at ETX Capital. "The markets seem to be holding up relatively well on that expectation."
Dow Jones industrial average (INDU), S&P 500 (SPX) and Nasdaq (COMP) futures were only modestly lower ahead of the opening bell. Futures measure current index values against perceived future performance.
Dow futures fell 80 points, or 0.6%, while the Nasdaq was off 12 points or 0.5%. S&P 500 futures dropped 9 points, or 0.7%
U.S. stocks ended Friday's session mixed, as strong gains in the technology sector were offset by disappointing results from industrial conglomerate Caterpillar. (CAT, Fortune 500)
Shortly after the close of trading on Friday, a round of debt talks between House Speaker John Boehner and President Obama collapsed.
Lawmakers scrambled Sunday to cobble together a debt deal before Asian markets opened for trading, but failed. Instead, negotiations faltered and both parties indicated they would pursue separate legislative tracks.
If Congress fails to raise the $14.3 trillion debt limit, Americans could face rising interest rates and a declining dollar, among other problems.
Ladwa said the broad implications of a potential default have not been considered by investors.
"I don't think world markets have fully factored in the severity of a U.S. default," he said. "It's not just a big deal for the U.S. It has huge implications across the globe as well."
Bond prices dropped Monday, pushing the yield on benchmark 10-year notes up to 2.99% as investors continued to give Washington the benefit of the doubt.
It's not clear exactly how the bond market will react as the debt ceiling deadline approaches. Some traders think yields may stay low as investors seek out tradition safe-havens. Conversely, the specter of default could cause a flight from Treasuries to other assets.
Traders will keep a close eye on this week's auctions. Treasury is selling a total of $99 billion in 2-year, 5-year and 7-year notes.
Meanwhile, credit rating agency Moody's downgraded Greece yet again, saying the European bailout package put together last week increases risk for the country's creditors.
World markets: European stocks edged lower in morning trading. Britain's FTSE 100 slipped 0.2%, the DAX in Germany was little changed and France's CAC 40 fell 0.4%.
Asian markets ended the session lower. The Shanghai Composite dropped 3%, the Hang Seng in Hong Kong lost 0.7% and Japan's Nikkei fell 0.8%.
Shanghai's decline was due in part to a sell-off in railway-related shares after a bullet train collision over the weekend killed at least 38 people.
Currencies and commodities: The dollar weakened against the euro and Japanese yen, but strengthened against the British pound.
Oil for September delivery slipped 99 cents to $98.88 a barrel.
Gold futures for August delivery hit a new intraday record of $1,624.30 before retreating to $1,617.80 an ounce.
Companies: Shares of BlackBerry maker Research in Motion (RIMM) fell more than 2% after the company announced it was laying off 2,000 employees -- 11% of its workforce.
ETrade (ETFC)'s stock jumped more than 5% on talk that TDAmeritrade (AMTD) may consider a bid for the online brokerage. Late Friday, Etrade retained Morgan Stanley (MS, Fortune 500) to look at strategic alternatives.
After the market close, investors will get results from chipmaker Texas Instruments (TXN, Fortune 500) and video rental company Netflix (NFLX).
The results from Netflix will be closely watched, in part due to massive run Netflix shares have had run this year -- up nearly 60%.
Analysts expect Netflix to post a profit of $1.12 a share, while Texas Instruments is expected to earn 53 cents per share.