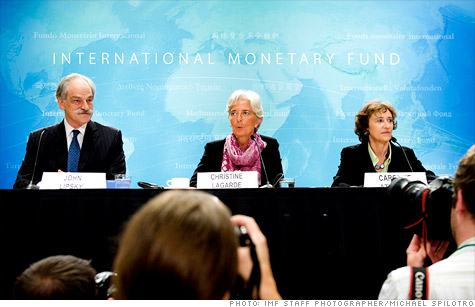 The IMF said in a staff report that U.S. policy makers should enact a medium-term budget plan that reduces long-term deficits without hurting the economy.
NEW YORK (CNNMoney) -- The International Monetary Fund said Monday that a downgrade of the U.S. government's credit rating would be "extremely damaging" for the global economy.
The IMF stressed that it is difficult to predict the consequences of a downgrade, since the United States has never had its top-tier rating lowered before.
"As we have said before, a downgrade will be very damaging for both the U.S. economy and the rest of the world," said Rodrigo Valdes, a senior advisor at the IMF. "But there is a lot of uncertainty; nobody really knows what would be the true effects would be."
The IMF's latest staff report on the U.S. came after talks over the weekend between Congress and the White House failed to resolve the dangerous impasse over the U.S. debt ceiling.
Democrats and Republicans on Capitol Hill have been deadlocked for weeks over a budget plan that is crucial to raising the nation's borrowing limit. The Treasury Department has warned that if Congress fails to raise the $14 trillion debt ceiling is not raised by Aug. 2, the government could have trouble paying some of its bills.
The main credit rating agencies stated last week that they are considering a downgrade of the nation's debt. That could roil global financial markets, which have widespread exposure to U.S. Treasury debt.
After the latest breakdown, lawmakers from opposing parties are now working on separate proposals.
The IMF said U.S. policy makers need to come up with a credible plan to reduce the nation's debt over the long term. But the fund also warned that cutting back too far and too fast could hurt the fragile U.S. economy.
A gradual consolidation of U.S. debt would help reduce the risk of "a global bond market event where investors would lose confidence in the ability of the United States to respond decisively to its looming fiscal challenges," the report states. "Such a loss in confidence would generate major negative spillovers to the rest of the world given the role of U.S. government bond yields as global benchmarks."
The IMF said it expects the U.S. economy to regain momentum in the second half of the year and into 2012. But the government needs to do more to stabilize the housing market and stimulate job growth, the report states.
Meanwhile, the outlook for the U.S. economy remains vulnerable to the threat of a broader debt crisis in Europe, according to the IMF.