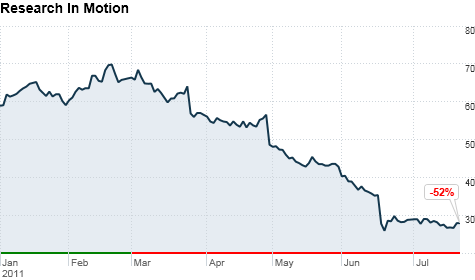 NEW YORK (CNNMoney) -- Research In Motion, the maker of BlackBerry devices, said Monday that it would cut more than 2,000 jobs as part of a previously announced cost-cutting effort.
The Waterloo, Ontario-based company said the cuts amount to over 10% of its total workforce. RIM's headcount will be reduced to about 17,000 after the pink slips are handed out this week.
Shares of RIM (RIMM) fell more than 1% in premarket trading.
The company also announced new responsibilities for its top management "to create greater alignment of the organization." The most major change was the retirement of chief operating officer Don Morrison, who left the company after having been on medical leave. He was replaced by Thorsten Heins.
For several quarters, analysts' calls for a management overhaul have grown louder. Many believe the company's dual-CEO model, headed by Jim Balsillie and Mike Laziridis, is inefficient.
RIM's CEOs blasted back against talk of an executive shakeup last month, arguing that they are the right men to steer the company back on track.
RIM was once the leader of the smartphone market in North America, but sales have been waning recently as many other device makers have introduced devices with broader appeal.
The latest, greatest BlackBerry smartphone, the Torch, is nearly a year old -- an eon in the fast-paced mobile device market. Meanwhile, Apple (AAPL, Fortune 500) and Google (GOOG, Fortune 500) are now outselling the former heavyweight.
Very disappointing sales of BlackBerry smartphones and its PlayBook tablets during the last quarter led RIM to cut its full-year profit expectations by 30% last month. As a result, RIM announced in June that it would begin a program to "streamline operations," which would include layoffs.
RIM said the job cuts were focused on "eliminating redundancies and reallocating resources to focus on areas that offer the highest growth opportunities."
Last month, the company said that one of those growth areas is QNX, the new operating system that powers the PlayBook tablet.
RIM said its forthcoming operating system, BlackBerry OS 7, is also a core focus. BB7 will enable a slew of sexy, high-end product launches across the globe that some analysts hope will lift the company out of its current funk.
But the release of BB7 has been delayed until late August at the earliest. That means the majority of the company's sales in the meantime have been -- and will be for the near term -- made up of cheaper, lower-end devices.