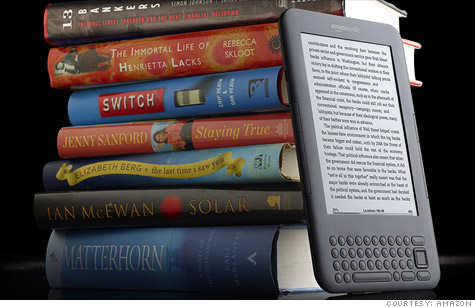 NEW YORK (CNNMoney) -- Amazon's stock jumped more than 6% in after-hours trading Tuesday after the company reported second-quarter results that topped analyst forecasts.
After the close of trade, Amazon (AMZN, Fortune 500) reported that its net income in the second quarter fell to $191 million, or 41 cents a share, compared to 45 cents a share in the same quarter last year.
Despite the profit drop, results surpassed forecasts. Analysts polled by Thomson Reuters were looking for earnings of 35 cents a share. Amazon's earnings per share beat those expectations by 17%, marking its largest positive surprise since the fourth quarter of 2009, according to Standard & Poor's.
Amazon's sales soared 51% over the year to $9.91 billion, easily topping analysts' estimates of $9.37 billion.
For the third quarter, Amazon expects sales between $10.3 billion and $11.1 billion. The middle of that range is above the consensus forecast of analysts, who had been predicting sales of $10.35 billion.
Amazon also said sales of its Kindle e-reader "accelerated" in the second compared to the first quarter. But it didn't provide any more specifics. The company's "worldwide electronics and other general merchandise" sales surged 69% over the year to $5.89 billion.
Amazon has never revealed sales figures for the Kindle, which competes with other dedicated e-readers including the Barnes & Noble (BKS, Fortune 500) Nook, the Sony (SNE) Reader and the Kobo, as well as Apple's (AAPL, Fortune 500) multipurpose iPad tablet.
The "Kindle with Special Offers" -- unveiled early in the quarter -- is now Amazon's bestselling e-reader. The ad-supported device sells for $114, which is $25 less than the Kindle Wi-Fi, its ad-free counterpart.
Amazon also touted its Cloud Drive, an Internet service launched in late March that lets customers store music and other digital files on the company's servers and access them on computers, smartphones and other devices.
Amazon doesn't break out its cloud services revenue, a small but growing part of its business. Non-retail sales, the line item that includes Amazon's cloud hosting unit, generated $359 million in revenue last quarter.
That's paltry compared to Amazon's total sales, but it marks a big jump from $203 million a year ago.