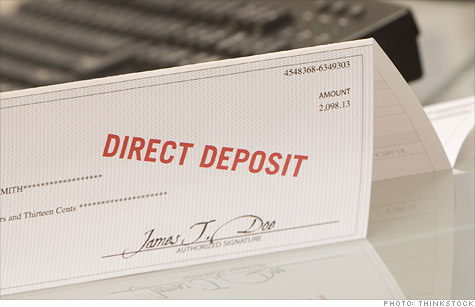 NEW YORK (CNNMoney) -- Despite ongoing economic uncertainty, companies are betting on their best workers -- and are willing to pay more to prove it, according to a report Wednesday.
After years of stagnant wages, nearly all -- or 97% -- of the 1,200 U.S. employers polled in a compensation survey by Mercer said they plan to increase salaries in 2012. The average increase in base pay is expected to be 3% in 2012, up slightly from 2.9% in 2011 and from 2.7% in 2010, the consulting firm said.
Half of the businesses that plan to hike pay said they plan to do so in order to retain top talent.
The top-performing employees -- just 8% of the workforce -- will see their salaries increase by an average of 4.8% next year, the survey said, compared to average workers who will see their salaries rise 3.1%. The weakest performers will be lucky to see anything at all. On average, they will receive a 0.3% pay increase in 2012, the survey found.
With many employees doing the work of two, or even three, people, employers are using compensation as a way to convince top talent to stay put, said Catherine Hartmann, a principal at Mercer.
Although available jobs remain scarce, "if you are a top performer in a critical role, you are still valuable in the marketplace," Hartmann said. "But it's a select group of folks."
For those few, "this is good news," she said.
For those unsure whether they fall into that category, Hartmann said that means that they likely do not. "Those who are top performers know it," she said.
During the recession, high unemployment and sluggish economic growth took a serious toll on wages across the board. Even a year into the recovery, national average wage levels are now no higher than they were at the start of 2008, according to a separate report by PayScale.com.
"The economy is not moving forward," said Al Lee, PayScale's director of quantitative analysis. "It's hard to imagine that 12 months from now we're going to actually see wages up."
A 3% raise works out to be about $41 more per paycheck after taxes for a full-time worker who earns the median annual income of $50,500 and is paid biweekly.