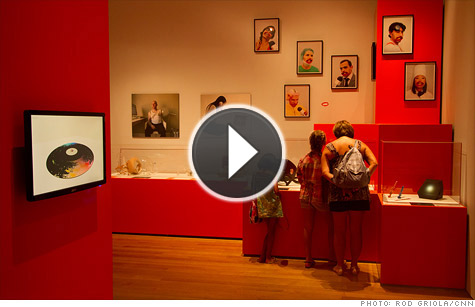 A new exhibit at New York's Museum of Modern Art explores human interaction with technology, present, future and bizarre.
NEW YORK (CNNMoney) -- Imagine a slingshot that hurls virtual messages onto a building facade or a "praying companion" for nuns that serves up a ticker of the latest headlines around the world for prayer material.
In the future, an artist may be able to paint a surface miles away using nothing but his or her pupils, a pair of glasses and custom software.
All of these concepts are displayed at "Talk to Me," an exhibit at New York City's Museum of Modern Art featuring a host of innovations in technology and design.
With nearly 200 objects, "Talk to Me" explores the relationship between people, how they interact with objects, and the role of technology and design to enhance those interactions.
"One of the functions of the show is to enable people and the general audience of the show to look better at the world around them and more carefully," said Paola Antonelli, MoMa's Senior Curator in the Department of Architecture and Design.
The exhibit is filled with examples of everyday objects made easier to interact with, such as personalized ATM machines with an easy to use interface and a NYC MetroCard vending machine with clearer prompts and graphics.
"Talk to Me" features some quirky technology as well.
There's a conceptual contraption designed for people who suffer from ghost limb syndrome. There's also something called a "Menstruation Machine" -- which is featured in a music video by Japanese popstar Sputniko!. When worn, the device shows men what it feels like to menstruate by using electrodes to stimulate the lower abdomen.
"Happylife," a thermal mood camera, measures stress and tension in different family members. There are also platforms on display that put people at the same height, allowing everyone to communicate with one another eye to eye.
"So many people complain about the fact that technology is pulling people apart physically," Antonelli said. "In truth, there are many other opportunities to meet and many designers that are trying to make these meetings more meaningful."
Antonelli hopes that viewers of the exhibit will be empowered by their role in the rapidly changing technology landscape and in turn, empower businesses and politicians to focus on how they innovate.
"What I would like people to leave with is really a seed of the idea that design is all around," she said. "The goal of designers around me is to make corporations and politicians understand that design should be part of their executive suite."