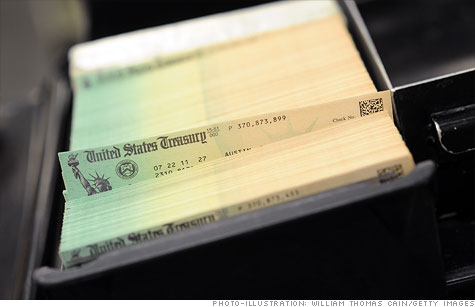 Social Security checks might not go out next week if the debt ceiling isn't raised.
NEW YORK (CNNMoney) -- Can the government afford to send out Social Security checks next week if the debt ceiling isn't raised?
The 28 million Americans expecting their payments on Aug. 3 will have to wait and see. Another 27 million people are scheduled to get checks later in the month.

President Obama keeps warning that the government may not have enough money to pay all its bills, including Social Security, if the debt ceiling impasse isn't resolved by Aug. 2.
If "we default, we would not have enough money to pay all of our bills -- bills that include monthly Social Security checks, veterans' benefits and the government contracts we've signed with thousands of businesses," Obama said in a televised address Monday night.
Missing Social Security payments is no small matter. The checks represent about 41% of the income of the elderly. Many seniors depend on it for 90% or more of their income.
No one really knows what will happen next week since the U.S. is in uncharted territory. Only one thing is certain: The federal government won't have enough money to cover all its August expenses. It will be roughly $134 billion short by month's end, according to estimates.
That hasn't stopped a whole lot of people from arguing that Social Security has an advantage over other federal obligations. They say the administration can just tap the massive Social Security trust fund to pay August benefits, estimated to total about $49.2 billion.
Treasury officials, however, are quick to shoot down this line of reasoning.
"This type of financial engineering is untested, may not work, and is of questionable legality," said a Treasury official.
There isn't any actual money -- or marketable securities -- in the Social Security trust fund. Instead, it's filled with $2.6 trillion in IOUs that the Treasury Department would have to redeem and then issue a corresponding amount of regular Treasuries to raise the necessary cash.
This swap, in theory, would not affect the debt ceiling because the IOUs are included in it. So redeeming a certain amount would lower the nation's debt level and give Treasury the room it needs to borrow to pay benefits.
But it is not feasible for Treasury to borrow the exact amount of Social Security payments due without breaching the debt limit, the official said. And, if a federal default causes chaos on Wall Street, the department may not have full access to the financial markets.
On top of all that, Treasury officials aren't sure that it's legal to redeem Social Security trust fund assets in advance of making payments.
Debt ceiling squabbles jeopardized Social Security payments several times in the past. The actions the government took then show why it's not so simple to mess with the trust fund, said a source familiar with the matter.
In the 1985 debt limit impasse, the Reagan administration redeemed some trust fund securities earlier than usual to create room to borrow to pay certain obligations, including the monthly Social Security benefits. That move was seen as highly controversial, and Congress did not give Treasury the authorization to draw on Social Security trust funds during future crises.
Also, in the 1996 crisis, Congress had to give Treasury special permission to temporarily borrow money to pay the March benefits. Lawmakers said those additional securities would not count against the debt limit. But that type of maneuvering is not even part of the debate today.
The non-partisan Congressional Research Service backs up the administration's warnings, saying in a June report that Treasury at times needs to issue new debt to raise the cash to pay benefits. And it may not be able to do that if the debt ceiling is hit.
"Social Security payments may be delayed or jeopardized if the Treasury does not have enough cash on hand to pay benefits," the report said.

Others, however, don't buy the argument that the administration may not be able to fulfill its Social Security commitments. CNNMoney readers weighed in, saying that Obama can turn to the trust fund to make benefit payments. Some think the president is raising the specter of defaulting on Social Security payments purely to get senior citizens up in arms about the debt crisis and put pressure on the Republicans.
The Social Security Act dictates that payroll taxes and the trust fund must be used for paying benefits or administering the program, said Jason Fichtner, former acting deputy commissioner of the Social Security Administration.
"They can always pay Social Security if they choose to," he said. "The debt limit is not a reason not to pay Social Security."
Since administration officials are not definitively saying that tapping the trust fund would be illegal, they should find a way to send out the checks, Fichtner said.
"They really should err on the side of making sure benefits are paid," he said. "It's wrong to scare seniors for political purposes. They can pay the benefits. They should pay the benefits."
Are you concerned that you won't get your Social Security payment in August? Do you depend on Social Security? What is your contingency plan? Send an email to realstories@cnnmoney.com and you could be profiled in an upcoming piece on CNNMoney. For the CNNMoney Comment Policy, click here.