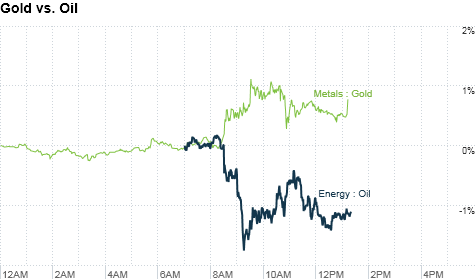 Click chart for more commodities action.
NEW YORK (CNNMoney) -- With only days to go before the debt ceiling deadline and no concrete resolution in sight, commodities are going haywire.
As the debt deal impasse continued and a disappointing report showed that the economy grew at a slower-than-expected pace in the second quarter, oil prices slumped nearly 2%, while gold surged to a record high.
"Commodities are moving with the debt ceiling headlines," said Dan Flynn, energy trader at PFG Best. "There's still a lot of mud-slinging in Washington, and nobody knows what they're going to do."
Oil traders were also keeping a close eye on Tropical Storm Don, which was expected to land in Texas Friday afternoon.
"It's not supposed to be a devastating storm but it's probably going to cause disruptions on some oil platforms and cause a slowdown of work on certain refineries or offshore rigs," said Flynn.
Meanwhile, gold was the safe haven of choice -- with prices jumping nearly 1% to close at a record high of $1,628.30 an ounce.
While some gold investors worry that the country could still default, many are also worried that even if the debt ceiling is raised, any increased spending will put the economy in even worse shape.
And the government may begin printing more U.S. dollars, which would raise the prices of commodities across the board, said Flynn.
He added that the commodities markets could see even more volatile moves next week
"The market has been pricing in if the debt talks have been taking a left hand turn or a right hand turn, and now that we're coming to the end of the week, Monday's going to be an interesting day," said Flynn.
It all depends on whether a deal is actually reached and if so, what it entails.
"It's a Catch-22," said Flynn. "The government has to do something before its self-imposed deadline, and traders have been sitting back and waiting, saying, 'okay, we're gonna have a deal -- but what exactly is that deal going to be?'"