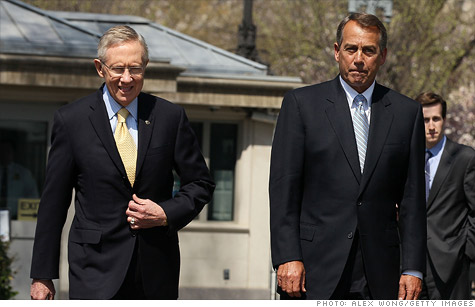 Something's gotta give to get the debt ceiling raised in time. And there is some common ground between the proposals Senate Majority Leader Harry Reid and House Speaker John Boehner.
NEW YORK (CNNMoney) -- There certainly are some big differences between the debt-ceiling bill proposed by House Speaker John Boehner and the one proposed by Senate Majority Leader Harry Reid.
But there is also more than $900 billion's worth of compromise between the two.
Both bills call for caps on discretionary spending -- that's the money Washington uses to pay for defense and all manner of government agencies and programs.
Excluding spending on the wars in Iraq and Afghanistan, the Boehner bill would reduce overall spending by $917 billion over 10 years, according to Congressional Budget Office estimates. Similarly, Reid's bill would cut spending by $927 billion.
Breaking those estimates down further, Boehner's bill would cut discretionary spending by $756 billion and save $156 billion in interest costs on the debt. The comparable numbers for Reid's bill are $752 billion and $153 billion.
Both bills also ignore the hot-potato issues of tax and entitlement reform.
So why can't these two bills get along?
There are some major sticking points.
Boehner's plan: The House bill would call for a two-stage increase in the debt ceiling. The first would be worth $900 billion, which might cover the Treasury Department's borrowing needs into early 2012.
But the House bill would set two high hurdles that would have to be cleared before increasing the debt ceiling by another $1.6 trillion -- which could cover borrowing needs past the presidential elections into 2013 .
First, Congress would have to approve $1.8 trillion worth of debt-reduction proposals by the end of this year. Those proposals would be made by a joint committee the bill would create and no amendments would be permitted.
In addition, to secure the second debt ceiling increase Congress would have to enact a balanced budget amendment by a two-thirds vote in the House and Senate, which is very difficult to secure.
Overall, Boehner's bill would increase the debt ceiling by a total of $2.5 trillion in exchange for $2.7 trillion in debt reduction.
Reid's plan: By contrast, Reid's bill as amended would set a procedure to raise the debt ceiling by $416 right away and two more times after that for a total debt ceiling increase of $2.4 trillion, in exchange for $2.2 trillion in debt reduction.
Reid's cuts count roughly $1.3 trillion in war savings in Iraq and Afghanistan, including debt service costs. But those savings can only be claimed if one assumes that U.S. engagement in Iraq and Afghanistan will continue at full throttle for the next decade, which is not realistic.
Like Boehner's bill, Reid's legislation would create a joint committee but it would be charged with proposing ways to reduce annual deficits to 3% or less of gross domestic product. And while the Senate would have to vote on those proposals without amendment, there is no requirement the proposals be enacted.
The House approved the Boehner bill on Friday evening in a 218-210 vote; 22 Republicans voted against it and no Democrats voted for it. But the Senate then promptly voted to table it. That was expected, since 53 senators on Thursday said that if presented with the Boehner bill they would vote against it.
It's also not at all clear that Reid's plan will pass the Senate, which is scheduled to vote on it at 1 am Sunday.
Presuming both measures fail to generate sufficient support in one or both chambers, lawmakers will have to get serious about striking a real compromise between the parties and the two chambers.
At the rate they're going they may have mere hours to do so before the government's borrowing authority is fully exhausted on Tuesday.
- CNN's Lisa Desjardins and Kate Bolduan contributed to this report.