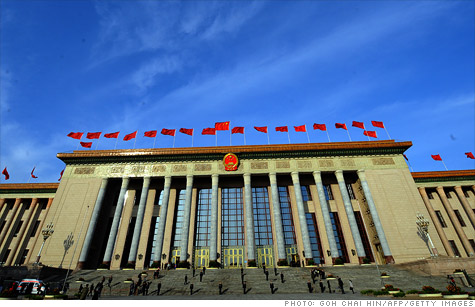 The Chinese government wants the U.S. to get its debt under control.
NEW YORK (CNNMoney) -- China's state-run news agency has lobbed a broadside at Washington, criticizing the United States for playing a dangerous game of chicken with a fragile global recovery in the current debt ceiling debate.
The Chinese government, the top international investor in U.S. Treasuries, had previously warned the U.S. government to get its debt under control or its credibility will suffer.
But state-run media outlet Xinhua has stepped up that criticism, saying the debate over raising the debt ceiling has "kidnapped" the worldwide economy.
"Such political brinkmanship in Washington is dangerously irresponsible," Xinhua wrote in a commentary published on Thursday.
The $14.3 trillion debt ceiling must be raised by Aug. 2, or the Treasury will not be able to pay its bills on time or in full. Experts have warned of global consequences if lawmakers fail to act.
"The ugliest part of the saga is that the well-being of many other countries is also in the impact zone when the donkey and the elephant fight," Xinhua said, referring to the symbols for the U.S. political parties. "The potential collateral damage is way too heavy."
Lawmakers need to set aside partisan politics, Xinhua said.
"Both Democratic and Republican leaders have repeatedly vowed not to allow their country to go into default, attesting to the popular speculation that they are just trying to secure maximum political gain from the bargaining before it is too late to reach a deal," the editorial said.
Earlier this month, China issued a more measured critique through official channels.
"We hope the U.S. government will take responsible policies and measures to boost global financial market confidence and respect and protect the interests and investors," said the Chinese government's State Administration of Foreign Exchange in a statement on its website.