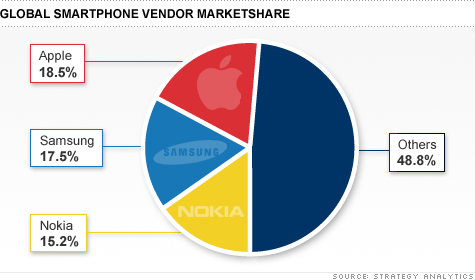 NEW YORK (CNNMoney) -- In the smartphone market, it's a great time to be Apple and Samsung. Nokia and Motorola? Not so much.
Last quarter, Apple (AAPL, Fortune 500) became the world's largest smartphone manufacturer for the first time, and Samsung moved up one spot to No. 2, according to a Strategy Analytics study released Friday.
They displaced Nokia, which had held the top position for more than a decade. It's a stunning achievement, particularly for Apple, which entered the market just four years ago and sells just two devices: The iPhone 4 and the iPhone 3GS.
Samsung smartphone shipments grew 520% over the past year, Strategy Analytics said. That growth was especially strong due to its Galaxy S II line of smartphones, which have proven popular abroad but haven't yet made it to the United States. The devices are expected to start selling here this quarter, and strong U.S. sales might help it overtake the top position.
Of course, Apple is also expected to unveil its next version of the iPhone in September, so Steve Jobs & Co. will likely remain a moving target.
For smartphone makers not named Apple and Samsung, last quarter was a very different story.
Nokia (NOK) retained its position of the top overall cell phone manufacturer, even though sales fell more than 20% over last year, according to an IDC survey released late Thursday. But Samsung is closing in fast. That could spell trouble for Nokia, because Samsung is performing well in traditional Nokia strongholds in which the Finnish phone giant is currently struggling: Europe and China.
The fact that smartphone sales are slumping for Nokia isn't a surprise: The company is transitioning away from developing and selling its own, underperforming mobile operating system called Symbian in favor of Microsoft's (MSFT, Fortune 500) Windows Phone 7 OS.
But Windows Phone sales have so far been underwhelming, and it remains to be seen whether the Nokia-Microsoft marriage will be mutually beneficial. It's a huge risk for Nokia to take, considering smartphones have become the biggest growth engine for the overall cell phone market over the past several quarters.
"The shrinking feature phone market is having the greatest impact on some of the world's largest suppliers of mobile phones," said Kevin Restivo, senior research analyst at IDC. "Stalwarts such as Nokia are losing share in the feature phone category."
Still, Nokia should be glad that it's not Motorola Mobility (MMI) or Research In Motion (RIMM).
Motorola announced Thursday afternoon that it lost $56 million last quarter and disappointed Wall Street analysts by saying results for its current quarter would be weaker than expected.
The company said its tepid outlook was due to delays in rolling out its new 4G smartphones and lower-than-expected profitability in its tablet business.
Motorola sold just 440,000 Xoom tablets in the quarter. The Xoom, which was the first of Google's (GOOG, Fortune 500) Android Honeycomb tablets, was expected by many analysts to be the first true test for the iPad. It hasn't been: Apple sold 9.25 million iPads last quarter.
Meanwhile BlackBerry maker RIM laid off 10% of its workforce last week in order to cut costs and focus its strategy.
RIM was once the leader of the smartphone market in North America, but sales have been waning recently as many other device makers have introduced devices with broader appeal.