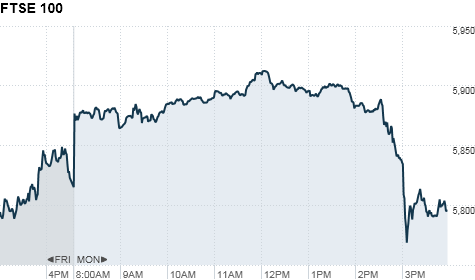 Click the chart for more world markets data.
NEW YORK (CNNMoney) -- European markets retreated Monday, after being higher higher most of the session, following an extremely disappointing report on U.S. manufacturing activity.
The Institute for Supply Management manufacturing report offset any gains that came from President Obama and lawmakers announcing they had reached a deal to raise the U.S. debt ceiling and reduce federal spending.
The ISM report was enough to drag both U.S. and European stocks lower. London's FTSE 100 fell 0.4%, Germany's DAX was down 1.9% and France's CAC 40 dropped 1.3%.
Before the report, investors breathed a sigh of relief Washington's announcement that top lawmakers has come to agreement to raise the debt ceiling for 2 years and cut $1 trillion to start.
But they remained somewhat cautious, as the agreement still requires congressional approval. The deal is expected to go up for votes beginning Monday.
"Asia was expecting a last-minute deal," said Yonghao Pu, chief investment strategist, UBS wealth management.
He cautioned that the relief rally may only last a few days as investors refocus on job growth, housing and corporate earnings.
"Markets will battle between the weak economic outlook and positive corporate earnings," said Pu.
Lawmakers had been deadlocked for weeks over a plan to reduce the nation's deficit. The United States hit its borrowing limit in May, and Congress was faced with raising the level before Aug. 2, or the Treasury Department wouldn't be able to pay its bills.
Last week, U.S. stocks delivered their worst weekly performance in over a year, with all three major indexes falling about 4%.
And the market's fear gauge -- the CBOE Market Volatility Index (VIX), commonly called the VIX -- shot up more than 40% last week.
"This is a turbulent time," said Pu.
Investors are still concerned that ratings agencies may downgrade the U.S. credit rating from its Triple-A status.
But Pu isn't overly worried about the long-term effect of a potential downgrade. "It doesn't mean that the U.S. is going to default," he said.
Asian markets ended mostly higher after the U.S. debt announcement. Tokyo's Nikkei (NKY) index led the gains, ending up 1.3%, while Hong Kong's Hang Seng (HSI) jumped 1%. China's Shanghai Composite (SHCOMP) only rose 0.1%, after a report showed that Chinese manufacturing activity continued to slow in July, according to the latest purchasing managers index.