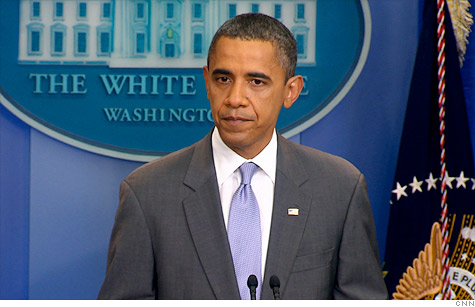 President Obama announced a deal on the debt ceiling late Sunday night.
WASHINGTON (CNN) -- The nation's top lawmakers and President Obama announced late Sunday they have reached a deal to raise the debt ceiling and dramatically curb federal spending.
"I want to announce that the leaders of both parties, in both chambers, have reached an agreement that will reduce the deficit and avoid default," Obama said Sunday night.
Obama said that while the process was messy, and had taken far too long, the nation would, in the end, avoid a costly default and economic catastrophe.
A short time before Obama spoke, Sens. Harry Reid and Mitch McConnell said that a framework had been agreed to.
"We can assure the American people tonight that the United States of America will not, for the first time in its history, default on its obligations," said McConnell, the top Republican in the Senate.
The announcements capped a frantic weekend of negotiations between congressional leaders and Obama administration officials.
But Obama cautioned that lawmakers' work was not done, and asked rank-and-file members of Congress to support the measure.
A significant number of the body's most conservative Republicans and most liberal Democrats are expected to vote against the bill.
Lawmakers were being briefed on the proposal Sunday night, and it's expected to go up for votes on Monday.
After months of stalling, a breakthrough was finally achieved after negotiations picked up over the weekend.
Leaders of both parties had agreed that any deal to raise the debt ceiling should include long-term spending reductions to help control spiraling deficits. But they differed on both the timetable and requirements tied to certain cuts.
The agreement includes upfront spending cuts in the range of roughly $1 trillion. A special congressional committee would recommend additional spending reductions no later than Thanksgiving.
If Congress fails to approve the recommended cuts, automatic, across-the-board cuts -- including both defense and Medicare -- would take effect.
News of a possible deal came shortly after the Senate delayed consideration of Reid's debt ceiling proposal late Saturday night, pushing back a key procedural vote by 12 hours.
Saturday was a day of sharp partisan voting in the House and extended talks behind closed doors between congressional and administration officials.
Concern continued to grow that Congress will fail to raise the nation's debt ceiling in time to avoid a potentially devastating national default this week.
While the political maneuvering continued, the clock continued to tick down. If Congress fails to raise the current $14.3 trillion debt ceiling by Tuesday, Americans could face rising interest rates and a declining dollar, among other problems.
Failure to pay interest or principal on the debt would trigger a sovereign default and a likely downgrade from the AAA credit rating the country has always enjoyed.
And while default is the worst-case scenario, a downgrade is not a desirable outcome. The ramifications of a downgrade are largely unknown; other powerful nations have lost AAA status, but never the United States.
Some financial experts have warned the United States could still face a downgrade of its AAA credit rating.
Already, the debt ceiling impasses has taken its toll on financial markets. The Dow Jones industrial average dropped for a sixth straight day on Friday, costing investors $700 billion.
-- CNN's Alan Silverleib, Tom Cohen,Ted Barrett, Kate Bolduan, Gloria Borger, Keating Holland, Brianna Keilar, Jeanne Sahadi, Xuan Thai, Jessica Yellin, Barbara Starr and Deirdre Walsh contributed to this report.