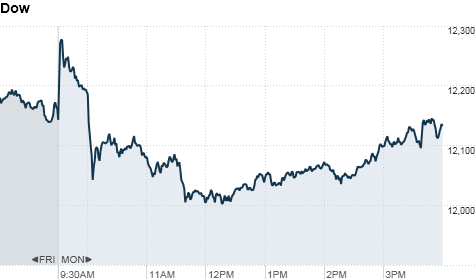 Click chart for more of today's market action.
NEW YORK (CNNMoney) -- Stocks took a wild ride Monday.
The day started with an early rally fueled by hopes of a resolution to the debt standoff in Washington. But a weak manufacturing report quickly deflated that optimism -- leaving stocks little changed as investors await a House vote.
The Dow Jones industrial average (INDU) ended down 11 points, or 0.1%, marking the seventh straight day of losses. But the modest decline came after the index tumbled more than 1% earlier in the session -- following a 1% jump at the start of trading.
Home Depot (HD, Fortune 500) and Merck (MRK, Fortune 500) were the biggest laggards on the blue chip index, with shares falling 2%.
The S&P 500 (SPX) slid 5 points, or 0.4%; and the Nasdaq composite (COMP) lost 12 points, or 0.4%.
"The market is schizophrenic the way investors are getting overly panicked and overly excited," said Tyler Vernon, CIO of Biltmore Capital.
While investors showed early enthusiasm for the debt ceiling deal, which needs to be enacted by Tuesday, the fragile U.S. economy quickly took center stage.
Last Friday's second-quarter GDP report in particular served as a stark reminder that the economy is growing at a sluggish 1.3% pace.
The gloom continued into Monday, with a report that showed that the manufacturing sector nearly stood still in July. The Institute for Supply Management's manufacturing index slid to 50.9 in July -- much worse than the level of 54 that economists were expecting, and down from 55.3 in June.
"We keep seeing data that shows the economy is getting worse," said Kim Caughey Forrest, senior equity analyst at Fort Pitt Capital Group. "Earlier this year, we thought the economy would improve -- albeit gradually. But all the negative surprises are concerning investors."
Stocks posted their worst weekly performance in more than a year last week, losing $700 billion in market capitalization.
America's debt crisis: Obama announced late Sunday that lawmakers reached a deal to raise the debt ceiling and dramatically curb federal spending -- and to avoid a costly default in the end.
But the president cautioned that lawmakers' work was not done, with the deal expected to go for a vote Monday.
Even if the deal passes, which many investors are expecting at this point, Vernon said he doesn't think it will do much for markets. While there may be a short relief rally, the market is still facing serious longer-term headwinds.
"If I look out 18 months from now, I'm having a hard time seeing anything good for the economy -- no matter what deal is made," said Vernon, adding that investors are still concerned about high unemployment and the eurozone debt crisis.
"We're going to see some high volatility and more of a trading up, trading down environment until these clouds clear," he said.
Plus, a downgrade of the United States' credit rating still isn't out of the question -- even if the debt ceiling is raised.
"Eventually there's a downgrade coming, it depends on Moody's, S&P and Fitch and they're very slow-moving," PIMCO founder and managing director Bill Gross told CNN Sunday. "This country has $10 to 12 trillion worth of outstanding debt. In addition, however, we've got about $60 trillion worth of liabilities. I call this Debt Man Walking."
Economy: The job market remains one of the roughest spots in the economic recovery, and investors will be bracing for the July jobs report on Friday.
The U.S. economy is expected to have created 78,000 jobs last month, according to a consensus of analysts surveyed by Briefing.com. In June, the economy added a paltry 18,000 jobs.
"We're 25 months into the recovery, and the job market is moving in the right direction but it's still abysmal," said Mark Luschini, chief investment strategist at Janney Montgomery Scott. "If the figures on Friday come below estimates, that will only compound economic concerns and lift the probability of the economy falling back into a recession."
Companies: Shares of HSBC Holdings PLC (HBC) rose 1.6%, after the London-based bank announced it will eliminate 25,000 jobs by 2013. The bank has already trimmed 5,000 jobs. The job cuts are seen as a positive, since they will help the bank reduce costs. HSBC also posted a solid profit.
Shares of defense firms slipped, since the debt deal includes as much as $2.4 trillion in spending cuts, some of which could hurt major government contractors.
Shares of Northrop Grumman (NOC, Fortune 500) and Lockheed Martin (LMT, Fortune 500) sank more than 1%, while Raytheon (RTN, Fortune 500) and General Dynamics (GD, Fortune 500) also declined.
Currencies and commodities: The dollar rose against the euro, British pound and Japanese yen.
Oil for September delivery fell 81 cents to settle at $94.89 a barrel.
Gold futures for December slipped $9.50 to $1,621.70 an ounce.
Bonds: The price on the benchmark 10-year U.S. Treasury edged higher, pushing the yield down to 2.76% from 2.80% late Friday.
World markets: European stocks drifted into the red in the afternoon and also ended lower. Britain's FTSE 100 fell 0.7%, the DAX in Germany dropped 2.8% and France's CAC 40 sank 1.9%.
Asian markets ended the session with gains, with Tokyo's Nikkei leading the rally, after Obama announced the debt deal. The Shanghai Composite edged higher 0.1%, the Hang Seng in Hong Kong rose 1% and Japan's Nikkei climbed 1.3%.