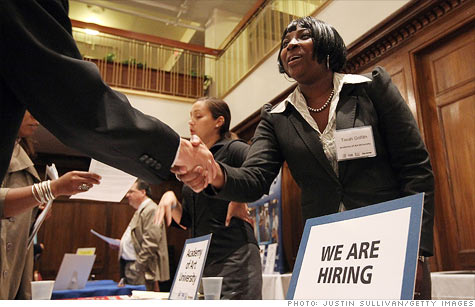 A recent job fair in San Francisco. Most experts say the debt ceiling deal won't turnaround recent weakness in the jobs market.
NEW YORK (CNNMoney) -- The deal to raise the debt ceiling may remove the risk of a 2008-like meltdown in financial markets that had made employers very nervous in recent months.
But even if the debt deal is passed by Congress, labor market experts don't expect it to jumpstart hiring growth.
"I would say this will have little effect if any," said Jeff Joerres, Chairman and CEO of staffing firm ManpowerGroup (MAN, Fortune 500). "It's nice to clear one worry off the desk, but there are a lot of other things to worry about.
"At the end of the day, demand trumps all, and right now demand is sluggish, regardless of industry," he said.
The economy added just 43,000 jobs in May and June combined as the debt ceiling debate dragged out in Washington. And economists surveyed by CNNMoney forecast a gain of only 77,000 jobs for July when the latest employment report is released Friday.
A survey last week found many worried about a new recession if Congress failed to reach a deal by the Aug. 2 deadline.
Some economists fear that the $2.1 trillion in spending cuts called for in the agreement to raise the debt ceiling will slow the economy.

The Economic Policy Institute, a liberal think tank, estimates that the spending cuts will cost the economy 323,000 jobs in 2012. It also estimates that allowing the payroll tax holiday and extended unemployment benefits to expire could cost an additional 1.5 million jobs.
But most of the cuts are fairly modest. Only about $21 billion, or 1%, would come in the fiscal year that ends Sept. 30, 2012. Without a deal, there could have been an immediate halt of about $134 billion in government spending in August alone, according to a Bipartisan Policy Center analysis.
Jennie Dede, vice president of recruitment for Adecco Staffing, says while the labor market is better off without that kind of shock, the debt ceiling agreement isn't likely to prompt businesses to hire if they didn't already have plans to do so.
"People are just being conservative in general with hiring," she said. "They want to make sure it's going to make an impact on their business. You have to really fight to get a hire approved inside a business nowadays."
Economists who closely monitor the labor market agree they're not expecting hiring to take off in the wake of the deal.
"It would be wonderful if [the debt ceiling agreement] being resolved had the economy take off like a rocket. But I don't think that'll be the case," said Joel Prakken, chairman of Macroeconomic Advisers, the firm that compiles the closely-watched ADP monthly employment index.
He said while the continuation of a payroll tax holiday or some other kind of fiscal stimulus could help the job market, the debate over the debt ceiling demonstrates Congress is in no mood to take any kind of action to spur growth or hiring.
Stuart Hoffman, chief economist at PNC Financial, which conducts a survey of small businesses, said those businesses were talking about a lot of worries beyond the debt ceiling, including raw material prices and weak demand.
He said recent disappointing economic readings, such as gross domestic product that was nearly flat the first half of this year and a weak survey of manufacturers, show that it'll be tough for the economy hit the growth targets many economists had been hoping for.
"There's a lot more weakness to the U.S. economy than concern over the debt ceiling," he said.
Other economists say that a number of sectors will be affected by spending cuts still to be determined, such as defense contractors, energy firms, higher education and health care providers.
Other industries are waiting to see details of regulations still in the process of being drafted, particularly financial services and health care. And there is little chance of a rapid rebound in real estate or home building anytime soon. So many major segments of the economy are likely to stay on hold.
"The debt ceiling represented just one of the black clouds of uncertainty casting a shadow over the private sector," said Sean Snaith, economics professor at the University of Central Florida. "The fact that this cloud has dissipated doesn't imply that the economy can now enjoy sunshine on its shoulders."
But Mark Zandi, chief economist for Moody's Analytics, said that while it doesn't solve all the problems facing the labor market, the positive impact of a debt ceiling deal shouldn't be discounted completely. He believes hiring will improve before the end of the year.
"Other things are going on that should help support growth -- lower energy prices, a rebound in Japanese manufacturing since the earthquake," he said. "But the key to all of it was the end of this drama. With this weight lifting, I'm hopeful employers will step up again."