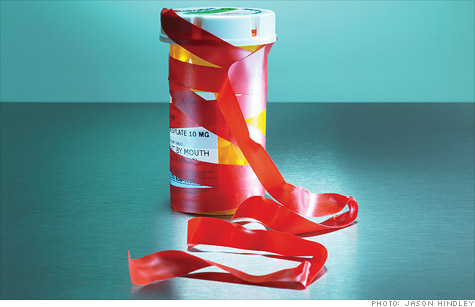 Money Magazine -- It's been more than a year since President Obama signed health care reform into law. The act's biggest provisions, which will make it easier for the uninsured to buy coverage, don't take effect until 2014. But Congress, eager to sell the plan to a skeptical public, wrote in a few benefits that have already kicked in.
You've probably heard some of them touted: Preventive care is fully covered by insurance plans. People with preexisting conditions have access to coverage. And retirees who spend a lot out of pocket on prescriptions are getting relief from the dreaded "doughnut hole" in their Medicare drug coverage.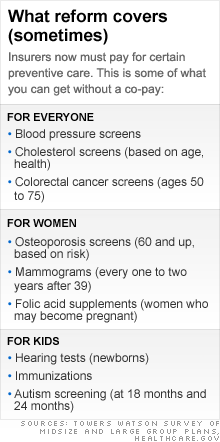 Of course -- and you knew this was coming -- things aren't quite as simple as all that.
Here are answers to common questions about what health care reform is doing right now.
If the new law requires insurers to fully cover preventive care, why did I get a bill for my annual exam?
The Affordable Care Act does eliminate co-pays and co-insurance for some kinds of preventive care, as long as you use an in-network provider. (Those services are also not subject to deductibles.) A yearly checkup or "well" visit will often be covered, says Lori Heim of the American Academy of Family Physicians.
Blood pressure checks and recommended screenings, such as mammograms and colonoscopies, should cost you nothing. Many vaccinations are also on the free list. Healthcare.gov has the full menu.
There are two catches. First, your plan may be grandfathered out of having to follow this rule if it was in place before the law was enacted. The exemption lasts until your employer significantly cuts benefits or increases your co-pay, co-insurance, or deductibles. Almost a third of midsize and large group plans are exempt, according to consultant Towers Watson, but that number will fall over time.
Catch No. 2? "Sometimes 'well' visits can morph into 'sick' visits," says Cheryl Gregg Fahrenholz of Preferred Healthcare Solutions, a consulting firm. Say your doc discovers an irregular mole and removes it during your visit. You may get a bill for the cut. Ditto if you mention a specific symptom that causes the doctor to run an extra test.
To avoid a surprise, ask your doctor to tell you when he is doing something that is going to result in a bill.
I have a preexisting condition, and I'm having trouble finding coverage. Wasn't this supposed to be fixed?
Starting in 2014, if you have a preexisting condition you'll be able to buy a health policy on the new insurance "exchanges," which will charge both healthy and sick people the same prices.
Until then, the law has provided some Band-Aids. Kids can't be turned away from most plans. And the federal government is subsidizing new programs in each state called Pre-existing Condition Insurance Plans. (PCIP.gov can direct you to your state's plan.)
You'll pay rates similar to what healthy individuals do in your state -- in Florida, a middle-aged person could pay as little as $270 a month. But you can buy in only if you've gone uninsured for six months.
Just 21,500 people nationwide have signed up. "The gap is just too big a risk for most people, so they'll stick with whatever they have, however inadequate," says Timothy Jost, a health law expert at Washington & Lee University.
Why aren't PCIPs open to everyone who needs them? Running insurance plans only for the sick (with no healthy people paying in as they will on the exchanges) is ruinously expensive, so lawmakers limited who could sign up.
I'm on Medicare, and I got a $250 check to help me pay for the "doughnut hole." Will I get more of those?
No. That was a one-time payment last year.
The so-called doughnut hole is the gap often found in Medicare prescription drug coverage: Once the cost of your drugs tops $2,840, you must pay out of pocket until total costs hit $6,448. Lawmakers decided to eliminate the hole, but it's happening gradually.
First, you got a check if you fell into the coverage gap. This year, instead of a direct payment, you'll receive a 50% discount on brand-name drugs you buy when you're in the hole. Generics will be discounted by 7%. Those percentages will increase over time. Your bill at the pharmacy should reflect the markdown.
"We were a little concerned the discount wouldn't work seamlessly for seniors, but it seems to be going smoothly," says Joe Baker, president of the Medicare Rights Center.
By 2020 the doughnut hole should be gone completely unless, of course, Congress makes yet another health care law by then.
Got a question for the Help Desk? Send it to helpdesk@cnnmoney.com.