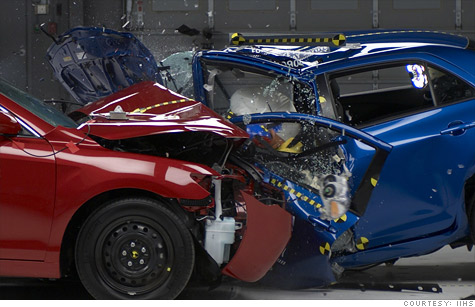 Auto engineers surveyed by Wards Automotive worry that future fuel economy rules could hamper efforts to make cars safer.
NEW YORK (CNNMoney) -- Stringent fuel economy requirements like those set for 2025 will be impossible to meet without sacrificing the safety of the vehicles we'll drive in the future.
That's the prevailing opinion of most automotive engineers surveyed by the industry publication Wards Automotive.
About 75% of auto engineers who responded to the survey felt that a 2025 fuel economy requirement of 56.2 mpg -- slightly higher than the final proposal announced last week -- would jeopardize the safety of future cars and trucks.
Most also felt cars will have to be smaller, more expensive and less varied than they are today with about 90% doubting the goals can be met without sacrifices in vehicle cost, size, safety and choice.
The survey, published Tuesday, was conducted in mid-July, about two weeks before the July 29th announcement of proposed new fuel economy rules. The magazine asked 1,100 engineers and designers working in the auto industry a series of questions about a hypothetical 56.2 mile per gallon fuel economy target for 2025.
The actual 2025 average fuel economy goal turned out to be 54.5 mile per gallon, just 3% lower than the number used for the survey.
The survey results would probably have been the same even if the final figure had been used, said Drew Winter, editor of Ward's Auto World magazine.
"Over and over we heard their concerns over dealing with other issues aside from fuel economy -- namely, safety -- that tend to add weight," Winter said.
Safety regulations usually add weight by requiring additional body structure and more features like airbags and electronics.
The engineers and designers said they doubted most consumers really grasp how these new fuel economy rules will change the cars they can buy in the future or how much more they will have to pay for them
"Consumers don't understand what this will cost, and environmental groups don't care," one engineer commented in the survey.
Higher fuel economy rules tend to raise costs by requiring the use of expensive lightweight materials and additional technology like hybrid battery systems and turbochargers
It'll be tough, but we can do it: David Friedman, an engineer and director of vehicle programs for the Union of Concerned Scientists, an environmental group, said auto company engineers are, again, underestimating their own capabilities. Seemingly difficult fuel economy and safety requirements have been met in the past, over industry objections, and they will be again, he said.
"I'm an engineer," he said. "It's what we're trained to do. It's called a safety margin."
The UCS had been pushing for even stricter fuel economy goals than those ultimately adopted.
Friedman pointed to a 2003 UCS project in which the group's engineers proposed a future Ford Explorer-sized SUV that would be CAFE-rated at 27 mpg using readily available technologies. (CAFE, or Corporate Average Fuel Economy, figures are higher than the EPA fuel economy numbers consumers typically see)
The recently redesigned 2011 Ford Explorer gets a CAFE-rated 26 mpg and it uses many of the features the UCS had proposed then, Friedman said.
Automakers will have to push consumers toward compact and subcompact cars and away from mid-sized and large cars, also called C-segment and D-segment vehicles, engineers surveyed by Wards Automotive said.
"A C-segment car will be considered huge by 2025," one engineer commented in the survey, "Bye bye to the CUV/SUV, light-duty pickup trucks and D-segment or larger cars."
On the contrary, UCS's Friedman said, the way the proposed regulations are written, automakers have broad flexibility to produce vehicles of various types and sizes. The regulations would set different fuel economy targets for different-sized vehicles, he said, and automaker will just have to meet the goals each type of vehicle.
Since the survey was done before the final outlines of the rules were clear, said Winter, it's not certain that engineers would still have this objection.
The engineers surveyed also expressed concerns about the durability of new engines and other systems that will be required to meet future fuel economy requirements. Small, high-revving engines might not last the 150,000 miles or more car buyers have come to expect, engineers worried. Also, customers might be disappointed with the cold-weather performance of hybrid and plug-in car batteries.
Aerodynamics play a big role in vehicle fuel economy and many engineers and designers expressed concerns that strict fuel economy requirements will turn all cars into look-alike pods designed entirely around air flow.
"Aerodynamic blobs on the way," wrote one engineer.
In the end, auto industry engineers could still find a way to deliver cars and trucks people like while meeting these standards, Ward's editor Winter conceded.
"They've worked miracles before," he said. "We'll see what happens."