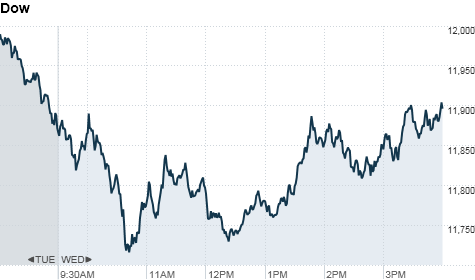 Click the chart for more market data.
NEW YORK (CNNMoney) -- After trading sharply lower most of the day, stocks slowly climbed back to end Wednesday's session modestly positive, ending an eight-day losing streak for the Dow.
The Dow Jones industrial average (INDU) rose 30 points, or 0.3%, to close at 11,896. The S&P 500 (SPX) gained 6 points, or 0.5%, to 1,260; and the Nasdaq Composite (COMP) added 24 points, or 0.9%, to 2,693.
It was a big comeback for the market, where the Dow had been down as much as 166 points earlier in the session. Investors found some solace in upbeat comments from Fed governors Donald Kohn, Vincent Reinhart and Brian Madigan, who told the Wall Street Journal that the Fed may consider another round of stimulus.
"It looks like all bets are back on that we will get some form of additional stimulus, possibility a QE3," said Peter Cardillo, chief market economy with Rockwell Global Capital.
U.S. stocks plunged on Tuesday as fears about the weak U.S. economy were fueled by another disappointing economic report.
"It's been this accumulation of bad economic data -- durable goods, last week's Beige Book commentary, Monday's ISM data -- that continues to force people to sell stocks," James said.
Even with Wednesday's modest gains, investors are still seeking safety in the traditional safe havens of bonds and gold. The yield on the 10-year Treasury note hit 2.6% -- its lowest level since early November.
Gold prices, meanwhile, surged to a fresh intraday record high of $1,675.90 an ounce, before backing off to $1,672.50. Oil dropped $1.86, or nearly 2%, to close at $91.93 a barrel.
Economy: The number of planned job cuts surged to a 16-month high in July -- rising 60% to 66,414 from June's 41,432, according to outplacement consulting firm Challenger, Gray & Christmas.
The ADP private employment report presented a more positive picture of the job market. The payroll processing firm said the private sector gained 114,000 jobs in July, beating expectations that the private sector would have hired 100,000 workers in July.
All of that came ahead of Friday's report, which is expected to show that the U.S. economy created 75,000 jobs in July, according to a consensus of 16 economists surveyed by CNNMoney.
In June, the economy added a paltry 18,000 jobs. The unemployment rate is expected to hold steady at 9.2%.
In other economic data, the Institute for Supply Management's service sector index fell to a reading of 52.7 -- worse than the 53.7 reading that economists had hoped for, but still indicating expansion in the sector. In addition, the Commerce Department said June factory orders fell 0.8%, which was slightly better than the 1% decline expected by economists.
"You've seen economic number after number come in weaker than expected -- and that's much more to blame for the recent sell-off than the Washington debt ceiling drama," said Michael James, senior equity trader at Wedbush Morgan Securities.
America's Debt Crisis: Investors remain cautious as questions about the economic recovery and the United States' pristine credit rating linger.
Fitch Ratings and Moody's Investors Services confirmed the nation's AAA status Tuesday, following a resolution to raise the debt ceiling and cut fiscal spending. But Standard & Poor's has not yet weighed in on the country's debt rating, after putting it on negative watch last month.
Companies: Time Warner (TWX, Fortune 500), the media company and parent to CNNMoney, beat earnings expectations. Shares fell more than 1%.Time Warner reported net income of $638 million, or 59 cents per share, and revenue of $7 billion. The media company was expected to report a profit of 56 cents per share and revenue of $6.8 billion.
Dunkin' Brands (DNKN) reported its first earnings since going public last week. The parent of the Dunkin' Donuts chain reported that global sales jumped 7% in the second quarter, compared to the year-earlier quarter, while same-store sales in the United States edged up about 3%.
But the growth in sales failed to lift profits. Net income was practically unchanged at $17.2 million for the quarter. The company's stock slid about 4%.
Shares of Open Table (OPEN) dropped 5.5% after the online provider of restaurant reservations disappointed investors by missing sales estimates.
MasterCard (MA, Fortune 500) shares jumped 13% after the company posted a 33% increase in quarterly profits well ahead of analysts' expectations.
World markets: Fears about a slowing global economy triggered losses in world markets.
European stocks closed broadly lower. Britain's FTSE 100 tumbled 2.3%, the DAX in Germany fell 2.3% and France's CAC 40 decreased 2%.
Asian markets ended in the red. The Shanghai Composite slipped 0.3%, the Hang Seng in Hong Kong dropped 1.9% and Japan's Nikkei tumbled 2.1%.
Currencies: The dollar was lower against the euro, the Japanese yen and British pound.