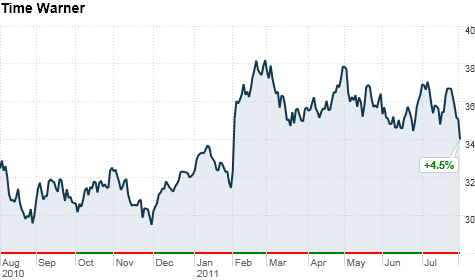 Click the chart to track Time Warner's stock.
NEW YORK (CNNMoney) -- Time Warner Inc. posted second-quarter earnings Wednesday that rose from a year earlier and beat Wall Street's expectations, as revenue climbed at the fastest pace in almost four years.
The New York-based parent company of CNNMoney.com and Fortune said its net income rose to $638 million, or 59 cents per share, up 14% from the same quarter in the prior year.
Adjusted operating income, a commonly used profit metric for media companies, rose 6% to $1.3 billion, or 60 cents per share. Analysts polled by Thomson Reuters were looking for earnings of 56 cents per share.
Time Warner's sales rose 10% to $7 billion, topping analysts' forecasts of $6.8 billion. The sales growth rate was the highest since the third quarter of 2007, the company said.
"Our continued investment in our content and brands is paying off," said Time Warner chief executive Jeff Bewkes in a statement.
Advertising revenue climbed 8% during the quarter, driven by an 11% increase at the company's television networks. The rise was primarily due to sports programming, including the NCAA basketball tournament, that aired on TBS, TNT and truTV.
Sales from subscriptions at the television networks, which also include CNN, rose 7%. The company said CNN's double-digit percentage audience growth among adults age 25-54 was the largest among its cable news competitors during the quarter.
Meanwhile content revenue spiked 18% thanks to higher sales of HBO's original programming, including "True Blood" and "Game of Thrones."
Revenue at Warner Bros., the company's filmed entertainment segment, climbed 13%. While the quarter's "The Hangover Part II" is now the highest-grossing R-rated comedy of all time, Bewkes said superhero flick "Green Lantern"'s performance "fell short of expectations."
The company said the film division's revenue growth came largely from higher video game sales and the home entertainment release of "Harry Potter and the Deathly Hallows - Part 1."
But the unit's operating profit slipped 6%, as sales were party offset by advertising expenses for future movies, including "Harry Potter and the Deathly Hallows - Part 2," which opened July 13. The second quarter ended June 30.
Since its release, the final film of the franchise has broken multiple industry records and has grossed more than $1 billion worldwide.
Revenue at Time Warner's publishing division, Time Inc., rose a modest 3%, as revenue from subscription and advertising ticked slightly higher. The unit was profitable during the quarter, with operating income up 10%.
But chief financial officer John Martin warned that Time Inc.'s operating income will likely fall during the third quarter due to increased market costs.
The publisher, which already provides some its biggest titles including People in digital form for tablets, will make all 21 of its brands available on leading tablet platforms by the end of the year.
While the quarter's performance was "solid," Janney Montgomery Scott analyst Tony Wible said the recent slowdown in the economy questions the sustainability of the improvement in advertising.
"The advertising recovery is tenuous at best, so we may be at a point where ad revenues have peaked," he said. "However, Time Warner is one of the more attractive names out there because of its heavier mix of subscription revenue, which tends to be steadier in an economic downturn."
Time Warner remains optimistic. For 2011, the company forecasts the percentage of growth for its full-year earnings per share to be "at least" in the low teens off a 2010 adjusted EPS base of $2.41. Last quarter, the company said it expected growth in the low teens. Analysts expect earnings to climb 14% for the year.
As the company continues to take aggressive steps in making more of its content available digitally, Bewkes said Time Warner remains in ongoing discussions with all the major digital outlets, including Netflix (NFLX), Apple (AAPL, Fortune 500) and Amazon (AMZN, Fortune 500).
"We are being fairly vigilant in our approach because we are eager to maximize the value of all of our series and movies," Bewkes said during a call with analysts. "Some of the sales that other content owners have made to various digital outlets have undervalued or reduced the lifespan of some of their products, and we don't want to do that."
Shares of Time Warner (TWX, Fortune 500) are up almost 6% this year, as the advertising market continues to rebound. But the comapny's stock lost 3% Wednesday, as the broader stock market tumbled.
The company bought back 28 million of its shares for $1 billion during the second quarter, bring the year's total to 65 million shares for $2.3 billion so far this year, double the pace of share buybacks in 2010.
Time Warner's report comes a day after rival CBS (CBS, Fortune 500) said that its profit more than doubled from a year ago quarter, topping forecasts, as sales rose nearly 8% and also beat estimates.
Viacom (VIAB, Fortune 500), which reports Friday, is also expected to post higher profit compared to a year earlier. News Corp. (NWSA, Fortune 500), which has been embattled in a hacking scandal, reports next week, as does Walt Disney Co. (DIS, Fortune 500)