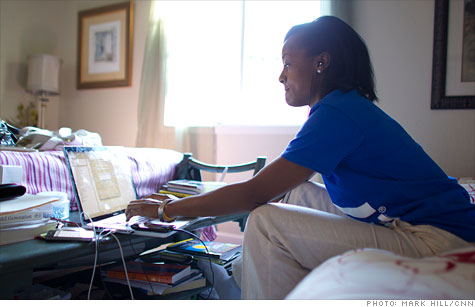 NewMe participant Tiffani Bell, the founder of Pencil You In, at work on her fledgling startup.
CNN's Soledad O'Brien is chronicling the NewMe Accelerator journey in Black in America 4, which airs November 13.
NEW YORK (CNNMoney) -- Every morning entrepreneur Hajj Flemings wakes up and heads to his favorite coffee shop in downtown Mountain View, Calif., to prep for one of the most important presentations of his career.
On Thursday, the 39-year old Detroit native will have six minutes to present his fledgling startup venture to a roster of Silicon Valley's top investment firms, including SV Angel, Bessemer Venture Partners, Google (GOOG, Fortune 500) Ventures and Sequoia, to name just a few.
Since June, Flemings and seven other entrepreneurs have been living and working together in a house in tech hub Mountain View as part of the NewMe Accelerator, a pioneering incubator for minority-led startups.
The entrepreneurs have spent the summer coding, designing, and meeting with seasoned tech mentors for feedback as they prepare to present their companies to the Valley's leading investors. Demo Day marks the finish line for their two-month startup sprint.
These Demo Day opportunities are selling points for the tech industry's growing field of accelerators like TechStars and Y Combinator, which bring entrepreneurs together for immersive training sessions. Back in May, TechStars' first crop of New York-based entrepreneurs pitched an audience full of more than 500 investors. Several walked away with funding. Later this month, Y Combinator's current cohort of startups -- also based in Mountain View -- will be doing their own round of presentations.
Many of the venture capitalists who turn out for those sessions will also be attending this week's NewMe Demo Day.
"This is a tremendous opportunity," NewMe co-founder Wayne Sutton says. "We're not just doing it for us. We're doing it for other minorities that that want the same opportunity."
Sutton hopes entrepreneurs who don't fit the typical Silicon Valley demographic will look at NewMe and its entrepreneurs as an example of how to break the mold.
"There's a lack of access of info [about] how everything works out here that a lot of people are missing," he says. "They don't understand the culture of information, how to prepare to get in front of a VC."
As they race through the final hours of preparation, those in the house say they're working around the clock and substituting coffee for sleep.
Flemings is getting ready to pitch Gokit, an online identity platform that helps users highlight who they are professionally, personally and socially.
He's incorporated the advice he's gotten through the last few weeks to refine his product and his pitch. For example, Flemings honed in on a specific demographic -- freelance U.S. workers -- and developed a better marketing strategy around what differentiates his product from competitors. That's a point he plans to make during his pitch.
He's also learned how to make the most of his six minutes. One key is to sell the vision and stay away from getting too deep in the technical weeds: "The storytelling format is going to be critical," he says.
And, of course, the small details matter. Flemings, whose startup focuses on helping people brand themselves, has already selected an outfit to wear that best represents his personal brand.
"You never have a second chance to make a first impression," he says. "If we don't hit this right, we don't get the next meeting."