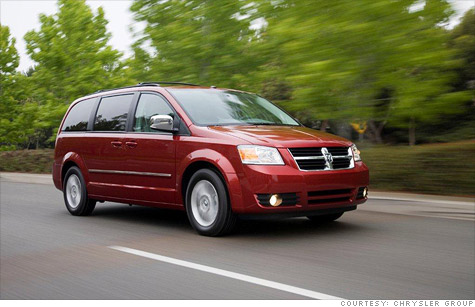 Chrysler Group is recalling almost 300,000 2008 Dodge and Chrysler minivans to fix a problem that could cause airbags to deploy for no reason.
NEW YORK (CNNMoney) -- Chrysler Group is recalling almost 300,000 model year 2008 minivans for a problem that could cause airbags to deploy unnecessarily.
Chrysler had previously recalled these minivans to fix a condition in which condensation from the vans' air conditioners could leak onto the Occupant Restraint Control Module, a computer chip that controls the airbags. When this happens, an airbag warning light could go on and, in some cases, the airbag could deploy unnecessarily.
In that original recall, Chrysler dealers repaired the drainage system for the air conditioners so that water wouldn't drip onto the airbag controllers.
Follow-up investigations on some of the vans involved in that recall indicated that the fix may not have been enough. Some airbag control modules that had already gotten wet still showed sings of damage that could lead to malfunctioning.
This time Chrysler Group dealers will inspect and, if need be, replace the actual Occupant Restraint Control Module computer chip itself.
Vehicle airbags deploy suddenly and with considerable force so an airbag going off unexpectedly could cause a driver to crash or could, itself, injure the driver or passenger.
There have been no known cases of inadvertent airbag deployment in vans that have had the first recall work performed, according to a letter sent by Chrysler to federal regulators.
The vans being recalled are the Dodge Grand Caravan and Chrysler Town & Country and Grand Voyager vans built between June 24, 2007 and July 30, 2008. (The Chrysler Grand Voyager is not sold under that name in the United States.)
The recall is expected to begin in August.