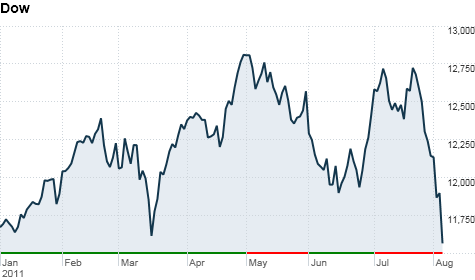 The Dow has now lost all of the ground it gained in 2011. Click the chart for more stock market data.
NEW YORK (CNNMoney) -- Stocks plunged Thursday in their single worst day since the 2008 financial crisis.
The Dow tumbled 512 points -- its ninth deepest point drop ever -- as fear about the global economy spooked investors.
"The conventional wisdom on Wall Street was that the economy was growing -- that the worst was behind us," said Peter Schiff, president of Euro Pacific Capital. "Now what people are realizing is the stimulus didn't work, and we may be headed back to recession."
U.S. markets were already sharply lower on widespread worries, including the weak job market. But the selling gained momentum as Japanese and European policymakers stepped in with dramatic measures to shore up their financial markets.
There's "total fear" in the market, said Bob Doll, chief equity strategist at the world's largest money manager, BlackRock.
All three major indexes tumbled more than 4% Thursday and erased all their gains for the year. The indexes have also pushed into "correction" territory -- defined as a 10% drop from recent highs. The Dow, Nasdaq and S&P 500 have all fallen 10% in just the last 10 days.
"In the last two weeks, we've been through the ringer," said Rich Ilczyszyn, senior market strategist at MF Global. "When we start looking at the recovery, there's nothing to hang our hats on anymore."
The market's fear gauge -- the VIX (VIX) -- surged 35.8% to a reading of 31.8. A level above 30 signals a high degree of fear.
At the closing bell, the Dow Jones industrial average (INDU) was down 512 points, or 4.3%, with Alcoa (AA, Fortune 500), Caterpillar (CAT, Fortune 500) and Bank of America (BAC, Fortune 500) among the biggest drags on the blue chip index. Thursday's sell-off marked the steepest point loss since October 2008.
The S&P 500 (SPX) was down a staggering 60 points, or 4.8%.
The Nasdaq (COMP) lost 136 points, or 5.1%. Some of the better performing tech stocks, Apple (AAPL, Fortune 500), Google (GOOG, Fortune 500) and Netflix (NFLX) were all down between 2% and 3%.
Fears about a global slowdown are at the forefront of investors' minds amid recent weak economic data. Early Thursday, the latest reading on jobless claims showed a large number of Americans remain unemployed.
Adding further to investors' jitters, Wall Street is waiting for Friday's jobs report, which BlackRock's Doll said was adding to the selling pressure.
The report is now a bit of wild card after it has come in far below forecasts for the last two months.
Economists surveyed by CNNMoney are expecting the report to show that the U.S. economy created 75,000 jobs in July, marking a slight improvement over the paltry 18,000 jobs added in June.
The unemployment rate is expected to hold steady at 9.2%.
Economy: Economic woes weren't contained to the United States.
In moves that they hoped would tame financial markets, Japan's government stepped in to weaken the yen, and the European Central Bank decided to re-enter the European bond market for the first time since March.
Those decisions come just a day after Switzerland intervened to curb the Swiss franc's rise.
"It's true that we are in a period of a high level of uncertainty, not only in the euro area but at the global level," ECB President Jean-Claude Trichet said in a press conference Thursday.
The ECB wasted no time and immediately started buying European bonds while Trichet's press conference was still going on. But bond traders were quickly disappointed, after they discovered the central bank only bought Portuguese and Irish debt -- not the Spanish and Italian bonds at the center of the crisis.
The ECB also left interest rates unchanged at 1.5% and initiated a 6-month refinancing operation to add liquidity to European markets.
European stocks plunged. Britain's FTSE 100 (UKX) tumbled 3.4%, Germany's DAX (DAX) lost 3.9% and France's CAC 40 (CAC40) fell 3.4%.
Asian markets ended the session mixed. The Shanghai Composite and Japan's Nikkei edged up 0.2%, while the Hang Seng in Hong Kong fell 0.5%.
Meanwhile, it should come as no surprise that in the U.S., investors flocked to assets perceived as low-risk, including Treasuries and gold.
Treasury prices rose, pushing the yield on the 10-year note down to 2.43% from 2.6% late Wednesday, and gold futures for December delivery fell $7.30 to $1,659 an ounce. Earlier in the session, gold hit a record high of $1,684.70 an ounce.
In other commodities, oil prices slumped 5.3% to $86.63 a barrel.
Companies: Auto giant General Motors' (GM, Fortune 500) second-quarter earnings nearly doubled to $2.5 billion, as revenue rose 19% and topped expectations. Shares of GM slid 4.3%.
After the closing bell, insurance giant AIG (AIG, Fortune 500) reported second-quarter operating income of $1.28 billion, falling short of analysts' expectations.
Shares of LinkedIn (LNKD) surged 7.8% in afterhours trading, when the newly-public company reported its second-quarter profit doubled from a year ago and its sales beat forecasts.
In addition to quarterly financial reports, retailers were also announcing July sales results.
Costco Wholesale Corp. (COST, Fortune 500) said its same-store sales climbed 10% last month, while Limited (LTD, Fortune 500) said sales rose 6%.