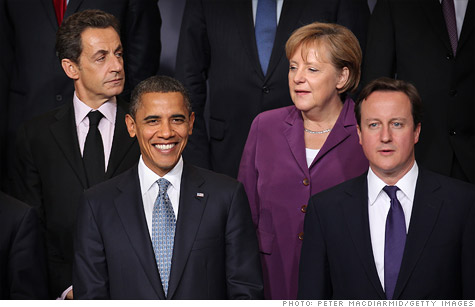 Sarkozy, Obama, Merkel and Cameron stand together.
NEW YORK (CNNMoney) -- A sharp drop in manufacturing, a towering debt-to-GDP ratio and a jaw-dropping decline in equity markets.
No -- not the United States. Europe!
Many of the underlying tremors that led to this week's steep sell-off in the U.S. have been festering in plain sight in Europe for a year or more.
Consider a few figures:
European indexes have been hammered over the past month, with the main exchanges of England (UKX) off 12.9%, France (CAC40) 17.6% and Germany (DAX) 16.7%.
The economies of Italy and France -- two of the continent's largest -- expanded by only 0.3% and 0.2% in the second quarter.
The problem?
Developed countries piled on massive amounts of debt during the recession.
Advanced economies worldwide increased their debt burden from $18.1 trillion in 2007 to $29.5 trillion in 2011, according to researchers at the Brookings Institution. And that's not the half of it. The number is projected to grow to $41.3 trillion by 2016.
The bill collector has already come for some. Billions have been spent propping up Ireland and Greece, and investors have not been shy about sending yields through the roof when they smell blood in the water.
Investors lending money to Spain are now demanding interest rates of 6%, while Greek bonds carry a 15% rate and yields on Italian notes spiked this week to 5.5%.
Coupled with weak growth, the sharp increase in interest rates only adds to the countries' debt and makes it even more difficult for them to lower their debt-GDP-ratio.
There is some evidence that politicians are waking up to the scale of the crisis.
German Chancellor Angela Merkel and French President Nicolas Sarkozy planned to interrupt their summer vacations -- a hiking holiday in Italy and a three-week excursion to the French Riviera -- to confer by phone about the growing economic unease.
That's welcome news, because while the crisis started at the continent's periphery, it has now arrived at the gates of Italy and Spain.
And that, according to Domenico Lombardi, a senior fellow at Brookings and former International Monetary Fund executive board member, should worry policymakers in the United States.
"Italy has been hit," Lombardi said. "It's the third largest economy in the euro area, and there is no organization that can bail Italy out. It's just too big to swallow."
If the situation in Italy were to worsen, the impact could lead to weakening demand for U.S. exports, uncertainty in global currency markets, and consequences for U.S. banks that are exposed to the European banking system.
The timing couldn't be worse for the United States, which is about to engage in some fiscal belt-tightening as a result of the debt ceiling deal negotiated in Washington.
With the government pumping less money into the economy, policymakers need to find a way to increase demand for U.S. exports, Lombardi said.
"But this is certainly not going to come from Europe," he said.
The tremendous instability in Europe is yet another drag on an already weak U.S. economy and could increase uncertainly, spark a rush to safe-haven assets or delay major investments by American businesses.
"The economic recovery in the U.S. is inherently fragile," Lombardi said. "And this could have a dramatic effect on the job market outlook."
On Friday, EU Economic and Monetary Affairs Commissioner Olli Rehn tried to calm the swirl of rumors as markets bucked up and down.
"The market unrest witnessed in the last few days is simply not justified on the grounds of economic fundamentals," he said, having broken off his holidays to return to Brussels. "It is not justified for Italy. It is not justified for Spain."
But try telling that to bond markets.