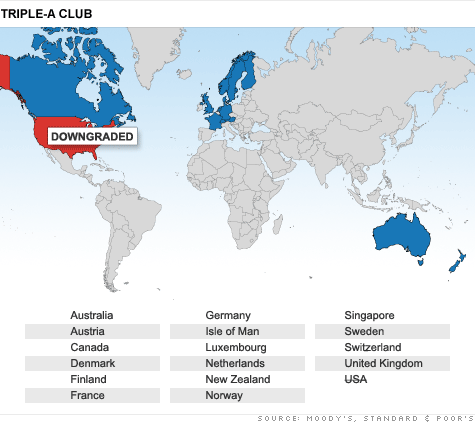 NEW YORK (CNNMoney) -- The Triple-A debt club just got even more exclusive: Late Friday, the United States was booted out of a prestigious group of countries that boast a spotless credit rating.
Now only 15 countries (and the very small Isle of Man) hold the triple-A rating from both Standard & Poor's and Moody's.
Canada, France, Germany, Norway, Sweden and Switzerland are among those with the undisputed stamp of approval -- so is Isle of Man, a British crown dependency off the United Kingdom's west coast, and Singapore (both of which are too small to see on our CNNMoney map above.)
The triple-A rating enables nations to borrow funds at a low cost, because their governments are considered stable and their bonds safe.
The United States for example, has seen its dollar become the world's No. 1 reserve currency because its bonds are held in such high regard by investors. They're backed by the "full faith and credit of the U.S. government" -- which until now, has never seriously been called into question.
On Friday, S&P downgraded the United States to AA+, an investment grade level just one notch below triple-A. It marked the first time the world's largest economy has been downgraded, since Moody's first gave the country a credit rating in 1917.
S&P cited estimates that U.S. government debt would balloon to 79% of the size of the entire U.S. economy by 2015, and 85% by 2021 -- a level S&P says is consistent with AA+ rated countries.
In comparison, estimates from the International Monetary Fund show triple-A rated Canada's debt is likely to only rise to 34% of its economy by 2015, and Germany's is forecast to rise to 52%. (The IMF does not publish forecasts out to 2021).
The debt of Belgium, another AA+ rated country on S&P's list, is expected to grow to 85% of GDP by 2015, according to the IMF.
Abu Dhabi, with a AA rating, is just a step below AA+. Also in that group are Bermuda, Chile, Qatar, Slovenia and Spain.
Meanwhile, China -- the world's second largest economy -- is rated two notches below the United States, at AA-.
Greece -- the lowest rated country in the world -- is forecast to see its debt well exceed the size of its economy, at 149% the size of its GDP in 2015.