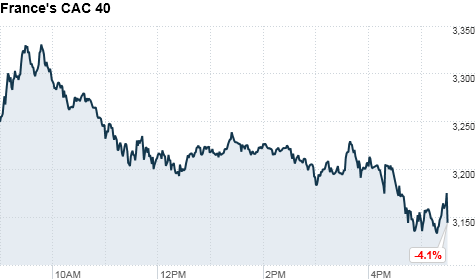 Click chart for more of today's market action.
NEW YORK (CNNMoney) -- European stocks closed sharply lower Monday, as action to bolster faltering eurozone nations couldn't overcome concerns about Standard & Poor's downgrade of U.S. debt. Asian markets also finished the session lower.
U.S. stock futures tracked the steep declines in global markets, slipping about 3% in mid-day trading.
The European Central Bank signaled in a statement Sunday that it was ready to begin buying Italian and Spanish government bonds -- stepping up its efforts to slow the rising panic over the eurozone's debt crisis. In a separate announcement, finance ministers from the G-7 -- a group of significant world economies -- pledged support for troubled countries.
The ECB action initially appeared to temper the reaction to Friday's S&P downgrade that removed the United States' AAA status for the first time. But after early gains, European markets retreated.
Paris' CAC 40 (CAC40) index, up more than 1% in the first hour, finished the session 4.7% lower. London's FTSE 100 (FTSE100) pulled back from a 1% advance to slip 3.4%.
Germany's DAX (DAX), which was only briefly higher earlier in the session, lost 5%.
As investors in the United States got their first opportunity to react to Standard & Poor's downgrade of U.S. debt, U.S. stocks took their cues from world markets.
Dow Jones industrial average (INDU) shed 2.5%, S&P 500 (SPX) slumped 3% and Nasdaq (COMP) sank 3.3% midway through the session.
Asian markets were the first to react to the downgrade, opening lower and staying down throughout the session.
In Tokyo, the Nikkei (N225) index finished with a loss of 202 points, or 2.2%, at 9,097.56. The sell-off was not as severe as Friday's 3.7% drop that followed the huge drop in U.S. stocks on Thursday.
The mood on the Tokyo Stock Exchange floor was described as "tense" by Tsutomu Yamada, a kabu.com market analyst. But he said actions taken by Western finance leaders and Treasury buying by Japan mean that the initial reaction in Tokyo won't be as bad as some experts had predicted.
The Shanghai Composite (SHCOMP) index tumbled 3.8%, while Hong Kong's Hang Seng (HSI) index ended with a loss of 2.2%.
South Korea's KOSPI (KOSPI) index ended down 3.8%, after being down as much as 5.5% and forcing a short trading halt. In Australia, the All Ordinaries index closed with a decline of 2.7%.
S&P's downgrade followed last week's debt-ceiling agreement that "falls short of what, in our view, would be necessary to stabilize the government's medium-term debt dynamics."
The ratings agency also blasted the partisan bickering that led to the debt ceiling fight. "The political brinksmanship of recent months highlights what we see as America's governance and policymaking becoming less stable, less effective, and less predictable than what we previously believed," S&P said.
Most economists and investment strategists have said that while there could be an initial shock, the downgrade itself should not impact markets too much in the long run.
"S&P doesn't know anything that investors don't already know, so the downgrade should not change expectations and interest rates," said Martin Feldstein, Harvard economist and former head of the National Bureau of Economic Research.
Moody's Investors Service explained Monday why it was sticking with its triple-A bond rating and negative outlook for the United States, setting itself apart from Standard & Poor's, which downgraded the U.S. last week.
Moody's said it expects the economy will improve and additional measures to reduce the budget deficit will be in place by 2013.
Among other developments Sunday, the White House announced that Treasury Secretary Tim Geithner will be staying at his post. An administration official told CNN that Geithner will stay until at least fall of 2012.
--CNN's Kyung Lah in Tokyo and Jiyeon Lee in Seoul contributed to this report.