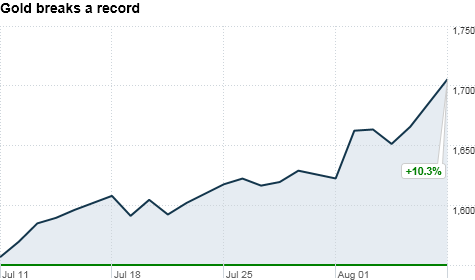 Click on chart for more commodity market data.
NEW YORK (CNNMoney) -- Gold surged to a new record on Monday, boosted by global market uncertainty in the wake of Standard & Poor's downgrade of U.S. debt.
Gold hit an intraday record of $1,718.02 per ounce -- its first time above $1,700, when not adjusted for inflation.
The price came off its peak before closing at $1,713.20 per ounce. That's $61.40, or 3.7%, higher than the prior session.
Joe Foster, portfolio manager for the Van Eck Global gold mutual fund, said prices are being driven by falling stock markets around the world.
He cited both the S&P downgrade of the U.S. and the European Central Bank's plan to purchase Italian and Spanish bonds. Those moves are stoking concerns about governmental currency and debt, sparking the flight to the precious metal.
"Gold is a sound currency of last resort, and thus the markets want something that will hold its value," he said. "That's why they're moving to gold."
Foster said he is bullish on gold's ability to continue rallying on international insecurity.
"In this current environment, I would say $2,000 [an ounce] is not an unreasonably expectation," he said.
Gold is also still far from its true peak, when adjusted for inflation. The metal hit its real record on Jan. 21, 1980, when it rose to $825.50 an ounce. Adjusted for inflation to 2011 dollars, that translates to an all-time record of $2,261.33 an ounce.