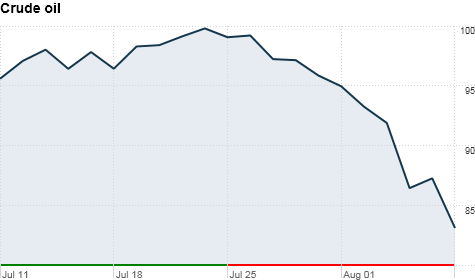 Analysts think the oil rout may be nearing an end, especially if the Fed injects more money into the economy.
NEW YORK (CNNMoney) -- Oil prices sank more than $10 a barrel in the last week, highlighting just how quickly commodity markets can swing in the throes of a crisis.
Just two weeks ago oil flirted with $100 a barrel. Most major forecasting agencies, including the U.S. Energy Information Administration, were calling for even higher oil prices for the second half of the year as growth in global demand outstripped growth in supply. Those forecasts were the rationale behind tapping the nation's strategic oil reserve in June.
What a difference a week makes.
"I don't think anyone has a clear picture right now," Brian Hicks, co-manager of the Global Resources Fund at U.S. Global Investors, said Monday, when oil finished the day at $83.10 a barrel. "There are just too many question marks."
Chief among them: How will the debt downgrade affect U.S. economic growth? Will U.S. consumer spending remain low, and will that impact factory production in China? Will Italy or Spain default on their debt, driving Europe into a recession?
Falling oil prices have a silver lining for the consumer. They usually mean cheaper gas prices. But that lining may be quite thin. As of late, falling oil prices have meant one thing: a tanking economy.
"The decline in prices reflects the market's revision to expected demand growth," said Tancred Lidderdale, an economist at EIA.
Yet be careful using market prices to make long term predictions. As the last week has shown, the market is a finicky creature, and prices can rise just as fast as they fall.
The government's monthly oil price outlook comes out Tuesday, and Lidderdale wouldn't give a preview of exactly what's in it. But he appears to be taking a cautious approach to the week's plummeting prices.
"I can't say there's a change in the expectation that demand growth won't exceed supply growth and put upward pressure on prices" going forward, he said. "The problem with looking at prices is the only thing that's certain is the unexpected will happen."
Other analysts seem to think the fall in oil prices may be nearing an end. That would be especially true if the Federal Reserve stepped up its purchases of U.S. government bonds.
Known as quantitative easing, the move is a bid to pump up the economy by injecting cash into the system. But it also tends to decrease the value of the dollar, which can drive up dollar-denominated oil prices.
The Fed has left the door open to another round of quantitative easing, if need be, but it is unknown how bad things need to get for that to be triggered -- or if it would be triggered at all.
"Energy markets are a good deal oversold technically and are susceptible to a rebound," Addison Armstrong, director of market research at the brokerage Tradition Energy, wrote in a research note Monday morning, "particularly if the Federal Reserve were to hint about a new round of quantitative easing that could put the dollar under downward pressure."
Global Investors' Hicks agreed.
"I think there will be some type of quantitative easing, and that will prompt a lot of money to come from the sidelines into things like hard assets and stocks," he said. "I don't think on a long-term basis we're looking for [oil] prices to fall much further."