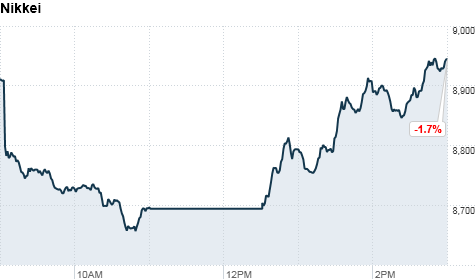 Click on chart for more world market data.
NEW YORK (CNNMoney) -- World markets attempted to come back Tuesday, a day after Wall Street's worst session in more than 2-1/2 years.
In afternoon trading, European markets were mixed, seesawing between gains and steep declines. Asian markets picked themselves off the mat, finishing off their lows of the day. U.S. stock futures -- for the time being -- signaled a higher open for Wall Street.
In Europe, Britain's FTSE 100 (FTSE100) was just above breakeven after being down more than 5% earlier. France's CAC 40 (CAC40) climbed 0.6%, having dropped as much as 4.6% earlier. Germany's DAX (DAX) lost 1.5% after an earlier descent of 7%. .
Tokyo's Nikkei (N225) index ended down 153 points, or 1.7%, to 8.944.48, after being off as much as 4.8% earlier in the session. It was the first time since mid-March that the Nikkei sank below 9,000.
In Hong Kong, the Hang Seng (HSI) finished more than 5% lower in a late sell-off. The index had come most of the way back from an earlier down 7% drubbing. Shanghai's composite index finished barely lower.
Australia's All Ordinaries index (ASX) ended nearly 1% higher after being down 5% earlier.
U.S. stock futures were slightly higher as a turbulent overnight period came closer to an end. The S&P 500 (SPX), Nasdaq Composite (COMP) and Dow Jones industrial average (INDU) futures were all up more than 2.5% earlier, but then promptly turned negative before rebounding. Futures indicate the possible direction of the market when it opens at 9:30 a.m. ET.
The moves followed a day in which the three major U.S. stock indexes sank between 5% and 7% each -- pushing the Dow (INDU) below 11,000 for the first time since last November. The drops followed Standard & Poor's Friday downgrade of the United States' credit rating.
The ripple effects of S&P's downgrade are only starting to be felt.
The credit agency downgraded mortgage giants Fannie Mae and Freddie Mac on Monday, as well as dozens of U.S. cities, insurance companies, and other entities with financial ties to the U.S.' credit rating. More downgrades are expected through the week.